Cinco de Mayo in Hermiston hit the big time Sunday with an emphasis on BIG.
Well over 1,000 people attended the day-long festivities which featured more than enough entertainment to last a week, let alone a single historic day. Sunday's party marked the first time the event was held in downtown Hermiston with the full backing and support of the city of Hermiston.
The event got under way around 10 a.m., and for those in need of an energy boost, it would take a little more than two 5-Hour Energy drinks to get you through the entire celebration which didn't wrap up until darkness fell.
The day began with a parade and renditions of both the United States' and Mexico's national anthems.
Inclusiveness was the theme of the day as organizers showed their appreciation for the city of Hermiston for supporting and promoting not only the Cinco de Mayo celebration, but for its support of the city's Hispanic community.
"We're one community and it's an inclusive city," said Eddie de la Cruz, chairman of the city's Hispanic Advisory Committee. He spoke briefly about the short, but impactful history of the Hispanic Advisory Committee, and how Hermiston City Manager Ed Brookshier suggested to him that the committee take over the responsibility of organizing a city-sponsored Cinco de Mayo event in downtown Hermiston. And with additional sponsors from throughout the community, the event on Sunday attracted a large crowd that continued to grow in size as the day went on.
"It's really incredible how in such a short period of time we've had a change in the community in such a positive way," de la Cruz said.
Umatilla County Commissioner Dennis Doherty said Sunday was an opportunity for everyone to be part of one community.
"Today, let us make everyone feel welcomed, appreciated and valued," he said.
Not to mention entertained.
The day featured dancing horses, dancing humans, musical performances from renowned bands, vendors along Main Street, and authentic Mexican food, the scent of which wafted through the warm air, adding to the day's carnival atmosphere.
Following a performance by La Luz De Michoacan, de la Cruz took to the stage to honor a number of individuals for their work on behalf of Hermiston as well as its Hispanic community. Among those honored were Hermiston School Board member Maria Durón and Hermiston City Councilor George Anderson.
"This man has given a lot of time to his community," de la Cruz said of Anderson. "I always say he has a Mexican heart. He's supported every issue we've brought up with the Hispanic Advisory Committee."
Also honored Sunday were two men who helped launch Hermiston's earliest Cinco de Mayo celebrations, Francisco Torres and Afredo Aceves. The two men were also key players in Hermiston's Latin American Cultural Club, founded by Aceves, and designed to get the Hispanic population more involved in the community.
Hermiston Parks and Recreation Director Larry Fetter was honored for his role in getting the soccer fields built at Rocky Heights Elementary School.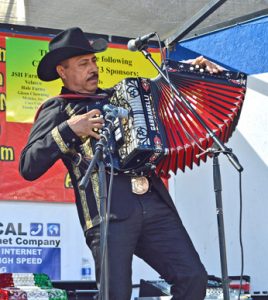 Eddie de la Cruz' father, Celso, was given a Lifetime Achievement Award for his work in providing free translation services as well as transportation to field workers.
David Cortinas, publisher and CEO of La Voz, presented an award to Eddie de la Cruz for his leadership within the community and spearheading this year's Cinco de Mayo celebration.
When the awards ceremony was over and the honorees left the stage, the entertainment resumed with a rousing performance by Raza Obrera – and the party was barely halfway over.
De la Cruz said he was proud of how the event turned out.
"This is really a historic event," he said. "We want to make this a real multi-cultural celebration and have it grow every year."