A Hermiston man is in jail on multiple drug and firearms charges as well as first-degree theft.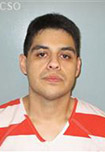 On Monday night around 10: 48 p.m., a Hermiston Police Department officer conducted a traffic stop on a vehicle driven by Nelson Ulises Farias, 28. Farias was arrested on multiple warrants which led to several drug charges and the recovery of a Glock firearm, according to Capt. Travis Eynon.
The gun, said Eynon, was allegedly stolen from a Hermiston resident's vehicle in October.
"This seems like a good time to remind everyone it is never a good idea to leave valuables, especially firearms, in a vehicle," said Eynon. "In addition to losing your valuable firearm, it has likely ended up in the hands of someone who shouldn't have it. People who can legally possess and purchase firearms do not typically acquire stolen firearms. If your firearm is stolen, it is very likely it is in the hands of a person who is prohibited by law from owning the firearm. If that person has it, it is likely not being used for any kind of legitimate purpose. It is far more likely your firearm is now being used in the commission of a variety of crimes. Take your firearms and other valuables inside with you."