The Hermiston Police Department is asking the community to help locate a man wanted on three warrants and who is a suspect in an attempted arson.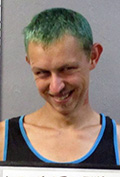 According to the HPD, Timothy Allan Kelly, 27, is suspected of trying to set fire to an occupied home using an "improvised incendiary device" last August. That case is still an open investigation.
Kelly is described as approximately 6 feet tall, weighing around 150 pounds with naturally blond hair that may be dyed green. He's known to frequent various locations throughout Umatilla and Morrow counties.
Anyone with information about the arson case is asked to call Lt. Randy Studebaker at 541-667-5095.
Anyone with information about Kelly's whereabouts is asked to call 541-567-5519 and press 1 for dispatch.