Rocky Heights Elementary School Principal BJ Wilson was named the 2013-14 Hermiston School District Administrator of the Year.
Wilson's honor was announced at the Hermiston School Board's meeting on Monday night.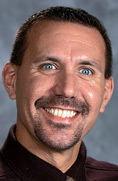 Wilson has worked in the district for 12 years. He first came to HSD in January of 1998 as a teacher at Rocky Heights, where he taught kindergarten, first and fourth grades. He later served as "assistant to the principal" for two years, and in 2001, he moved to Desert View Elementary School, where he taught fourth grade and also served as assistant to the principal. He was a key member of the planning team to open Desert View.
In 2003, Wilson briefly left HSD to serve in his first administrative position as principal of Sam Boardman Elementary School in Morrow County. Under his leadership the school saw significant academic gains, earning a "Strong" rating on the Oregon State Report Card. Simultaneously, the district opened Windy River Elementary School (grades four and five) next door to Sam Boardman, and Wilson supervised both buildings. He also served as the district's special education director.
In 2007, Wilson returned to HSD as principal of Rocky Heights.
"Over the last seven years, he has led the extraordinary team at Rocky Heights with exceptional grace and poise," said Superintendent of Schools Dr. Fred Maiocco. "He is universally recognized among our administrators as a strong and gifted leader."
Wilson and the nine educators of the year will be presented to the public on Feb. 5 at the Chamber of Commerce's Distinguished Citizens Awards Banquet.