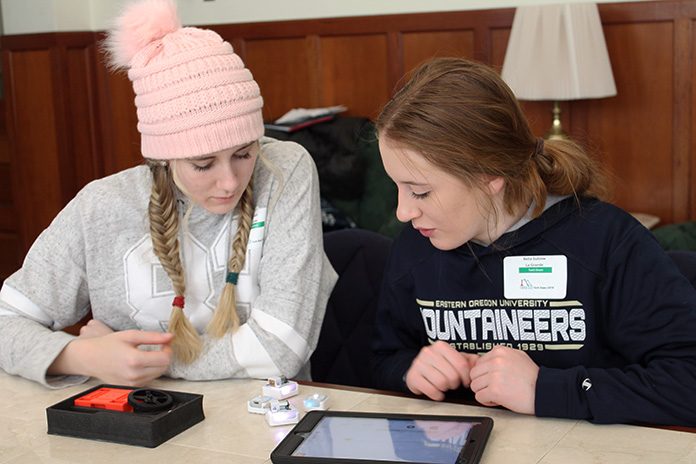 More than 100 students from school districts across Eastern Oregon gathered recently in La Grande for the annual InterMountain Education Service District (IMESD) Tech Expo.
The winter weather prevented some districts from attending, but students who made it to Eastern Oregon University explored many different aspects of the technology field.
The eighth through 12th graders were organized into teams who traveled around together to multiple sessions throughout the day. Topics included 3D animation, coding, cyber security, e-commerce web development, computer building, robots and more. Many of the sessions offered interactive and hands-on opportunities. Students could also go on an EOU campus tour and attend a college and career fair to explore the potential for technology-related careers.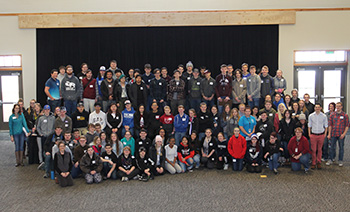 The Tech Expo is organized by the IMESD and is free to students of the agency's component school districts, who transported students and provided chaperones for the day. The nine districts who attended were Echo, Imbler, La Grande, Morrow County, North Powder, Stanfield, Ukiah, Umatilla and Union. Staff and student interns who work in the IMESD's IT department also contributed to the event.
"Even though inclement weather impacted our attendance from some districts, all our participants had a great day!" said Karen Smelser, expo coordinator. "At each session I attended, I got to see the interest and fun students were having. This was a wonderful effort by our IMESD team that resulted in another successful Tech Expo."
Jeff Carman, EOU's director of Computing and Telecommunications, facilitated EOU program content and facility use, as well as led cyber security sessions. The Admissions Office donated EOU-branded bags for all students, and the GO-STEM Hub donated branded mechanical pencils for all participants. GO-STEM Executive Director Kim Young also served as a group leader.