Edelmira "Connie" Garcia, a longtime InterMountain Education Service District (IMESD) employee, was named the 2019 Title I-C Mirant Education Teacher of the Year by the Oregon Department of Education. The award is given to a teacher who has demonstrated an exceptional commitment to Oregon's migrant students, their families and to the Migrant Education Program in Oregon.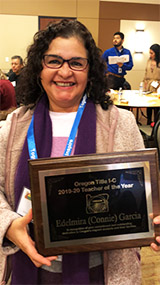 Garcia, who has worked for the IMESD for more than 20 years, was recognized at the 2019 Migrant Education Program (MEP) Conference in Salem on Nov. 15. Garcia teaches at Sam Boardman Elementary School in Boardman.
According to Eric Volger, IMESD's MEP coordinator, Garcia is engaging, energetic, organized and compassionate as well as a "natural" who was born to teach. Garcia, who teaches preschool-aged children, creates lessons that are interactive and fun, involving students in song, dance and games. Her classroom's sense of organization and order contributes to successful learning, as does her passion for teaching and her excellent rapport with students.
"In my nearly three decades in education, I have never witnessed a Pre-K teacher who is more engaging and effective than Connie. She is absolutely worthy of being recognized as Title I-C Teacher of the Year," Volger said.
IMESD's Migrant Education Program served 1,362 students in the 2018-19 school year.