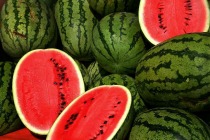 Irrigon is the place to be on Saturday when the annual Watermelon Festival gets under way.
The day starts off at Irrigon Marina Park with breakfast served from 6:30 to 9:30 a.m. Chicken dinners, hamburgers, hot dogs, fries, nachos and – of course – Bellinger Farms watermelons will be available throughout the day.
Entertainment will be provided by Tony Madrigal, the Three River Saxtette, Wallula Junction, Sore Thumb, Retro-Actives, John Wambeke and Eric Jeppsen, and the Roundup City Cloggers.
Raffles will take place, along with Morrow County Sheriff's Office boat rides, craft booths and vendors as well as a car show.
The event is funded by the Morrow County Unified Recreation District.