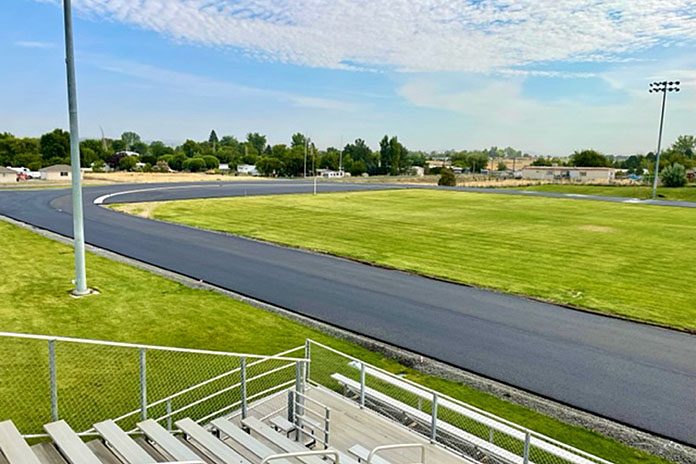 Students and staff returning to Irrigon Junior-Senior High School will notice some upgrades when they return to classes next week, including the new track currently under construction.
"This is something that our school and community can take pride in," said Athletic Director Mike Royer. "The track facility will provide an opportunity not only to our junior high and high school athletes, but to our youth and community in general."
Construction began on the project in June, removing the gravel and dirt track to make way for the new surface being installed by Beynon Sports of Tualatin, a fabricator for track and field facilities. Much of the heavy lifting has already been done, with the Port of Morrow donating over $85,000 in labor and engineering. Currently, there is a three-inch deep base layer of asphalt, which will be covered in the next phase with a synthetic rubberized surface. The final track will be red, with the finishing lane stripe painting slated for early September. The fresh surface is expected to make its debut in mid-September.
Originally built to support a middle school, the old gravel track's functionality had become limiting for the track and field competitors. According to Royer, as the school has grown the need for a better surface has become increasingly apparent. In past years the track team bussed to Umatilla to have a more professional surface to practice on. The new surface will allow students to have an appropriate facility for practices and track meets. Royer noted that Irrigon's track and field team has consistently been competitive in previous years, and this improvement will increase safety for runners and allow for home track meets.
Irrigon Junior-Senior High School Principal Rose Palmer noted that the improved facility will be safer for everyone, with lighting in the evening that will provide "an opportunity for the community to expand their recreation options." She also pointed out broad community support with helping to fund this major improvement, which includes funding from Morrow County School District, the city of Irrigon, Morrow County Unified Recreation District, Columbia River Technologies, Boardman Community Development Association, CREZ Board, and the Port of Morrow.
Royer has enjoyed watching this process unfold.
"It was impressive watching things come together this past year to make it a reality," he said. "And I want to extend a big thank you to the Port of Morrow and all our supporters for everything they provided in making this project happen."