In almost every arts organization there is one person who has shaped the heart and soul of the mission. While the work of artists, advocates and donors gains most of the limelight, those working behind the scenes are often the ones keeping the institutions financially sound and able to do their important work.
J.D. Smith is one of those people.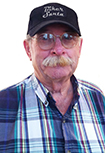 This year Smith is retiring from his 20-plus year tenure at the Pendleton Center for the Arts. In addition to writing grants and managing PCA's membership program, he's been instrumental in conceiving what have become their most successful programs. Art Rocks Teens, the free after-school/summer program for kids 13-18 and its accompanying Rock & Roll Camp were inspired by a desire to see positive activities for his own then teenage son and other youth. Art Rocks Teens continues to be a central part of PCA's programming, and the Rock & Roll Camp celebrated its fifteenth year this August.
Smith's success comes from the intersection of a belief in the power of art and music to elevate the human spirit, a passion for helping those who may not have a voice in the community, and his skill in being able to clearly communicate the stories of the organizations he's representing.
He has also made important contributions to the Walla Walla Symphony, the Oregon East Symphony, and other organizations, where he raised money for performances and youth programming.
Smith holds a master's degree from Tufts University in Medford, Mass., where he studied Latin and Greek, and worked towards a doctoral degree at Harvard until leaving to teach in a one-room schoolhouse in Montana. He was heavily involved in the civil rights movement in the 1960s and served as a key member of the Amite County Project in Amite County, Miss., where some of the most horrific violence of the Jim Crow era took place.
At the age of 26, Smith served as manager and editor of the Whole Earth Catalog, contributing his own commentary and sharing in the honor in 1972 when the organization received the National Book Award for The Last Whole Earth Catalog.
He has also worked as a golf course greens mower, hay waddie, auto parts runner, bookstore clerk, sheet metal fabricator, pulpwood logger, sawmill worker, ranch hand, pump mechanic, janitor, magazine editor, stage carpenter, house carpenter, and combine operator, among others.
His column From the Headwaters of Dry Creek has appeared in the Long Valley Advocate in Cascade, Idaho and the East Oregonian in Pendleton. He also makes finely crafted leather and wood works that are sold in fine craft venues across eastern Oregon.
"J.D. leaves enormously big shoes to fill in hiring a new grant writer for the Arts Center," said Board President Susan DeMarsh. "He has shaped the cultural life of Pendleton in a profound way. We're excited for him to enjoy retirement and look forward to reading about his travels."
The Pendleton Center for the Arts has the half-time grant writing position listed on their website, PendletonArts.org.