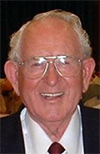 Jack Lester Walty passed on peacefully with his wife, Helen, by his side on Oct. 4, 2019.
He was born Jan. 21, 1927. Jack was raised in Talent and lived all over the Pacific Northwest until moving to Anchorage, Alaska in 1975 with his wife and three daughters.
Jack spent his entire life providing for his family, hunting and fishing with his girls, grooming his yard, cherishing his wife, and sharing the love of God.  He was funny, sincere, musical, friendly, and a real character. An honest and true man through and through. He always did what he said and said what he did (yes, the fish really was that big).
Upon retiring as the chief of petroleum for the state of Alaska in 1994, Jack and Helen felt a prompting to settle in Boardman.  Jack loved his Boardman friends and they loved him. After settling into a routine in Boardman, he decided to fill some of his time as a janitor at the local high school, singing up and down the halls while he worked.  He loved working around the youth at the high school. He was even nominated honorary Mr. RHS by the high school students.
Jack knew God on a personal level and had a strong desire that all might feel of His love. He was an active member of The Church of Jesus Christ of Latter-day Saints.  Jack was preceded in death by his sister Genevieve, brother Harvey, and daughter JoAnn. He is survived by his wife Helen, daughter Christine, daughter Lura (husband Robert), and many grandchildren and great grandchildren. Cowabunga Daddy!
A funeral service will be held on Saturday, Oct. 12, 2019 at 1 p.m., at the Church of Jesus Christ of Latter-day Saints, 500 Wilson Road SW, Boardman.
Burial will follow at the Riverview Cemetery in Boardman.
Please share memories of Jack with his family at burnsmortuaryhermiston.com.
Burns Mortuary of Hermiston is in care of arrangements.