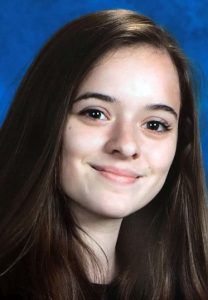 Jenna Elizabeth Marie Thomas of Hermiston passed away near Hermiston on Feb. 5, 2018 at the age of 15.
She was born on Sept. 28, 2002 in Vancouver, Wash. to Chris and Kaleen Kelly Thomas.
Jenna moved to Hermiston as an infant and attended Highland Hills Elementary School and Armand Larive Middle School and was currently a sophomore at Hermiston High School. In high school, she was a member of the swim team and the tennis team.
Jenna was a bright, kind and thoughtful person who had a passion for science, computers and art. She was a creative artist who had won several awards for her charcoal drawings. She enjoyed new experiences in cuisine, as well as cooking and baking. She was currently learning the languages of Spanish and Japanese and had attended several academic camps at UCLA, Southern Oregon University and the University of Washington. She enjoyed water sports, snow skiing and going on trips with her family.
She will be missed by her parents, Chris and Kaleen Thomas; brothers, Jack and Adam; grandparents, Ray and Sally Thomas and John and Teresa Kelly; and many aunts, uncles, cousins, distant family members and friends.
A Funeral Mass will be at 2 p.m. on Friday, Feb. 9, 2018 at Our Lady of Angels Catholic Church, 565 W. Hermiston Ave. A reception will follow in the church parish hall.
To leave an online condolence for the family, go to burnsmortuaryhermiston.com.