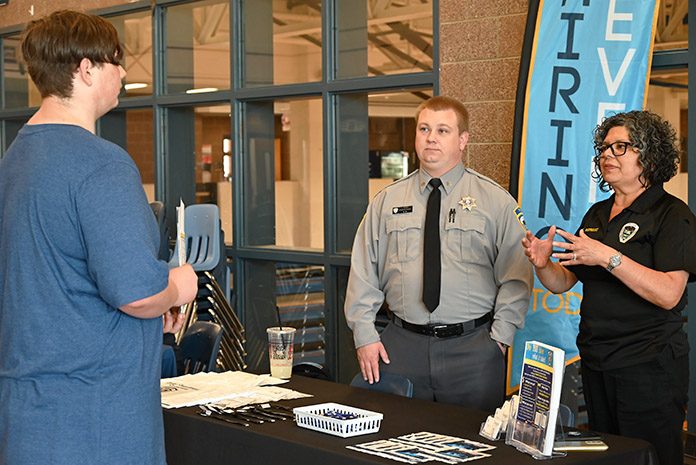 Kaiden Blair had a different agenda from the rest of the people attending Wednesday's job fair at Umatilla High School. The 18-year-old UHS senior said he was thinking a little further down the line.
"I didn't really come here looking for a job," Blair said. "I'm here to network. It's good to get to know people so if I look for something later, they'll already know me."
Blair is heading to college in the fall at the Washington State University campus in the Tri-Cities. He spent several minutes talking with Tyler Botts of the Mid-Columbia Bus Company among others. And while he wasn't necessarily intending to apply for a job on Wednesday, he said if something interesting pops up, he might fill out an application.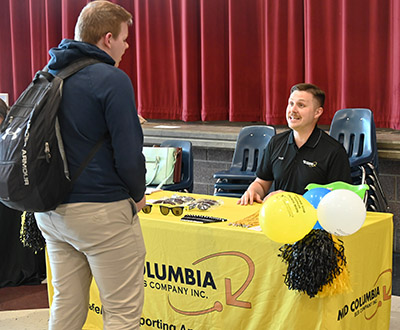 "If the job is right and the hours align with my schedule, who knows? I might," Blair said. Regardless, Blair said his time spent at the job fair was worthwhile.
"I've already gotten to know a lot of people," he said.
Most of the students attending the job fair, hosted by the Umatilla Chamber of Commerce, were looking for a summer job. Kai Manning, a 16-year-old sophomore at UHS, was one of those.
"Right now, I'm looking for anything I can get," Manning said.
Megan Pauline of Eastern Oregon WorkSource said most high school-age job seekers are new to the job market and have one thing on their mind – money.
"A lot of them are out for the money," Pauline said. "They're not thinking about the long-term or what they have to do to get a job and earn that money."
Pauline said she's been involved in quite a few job fairs this year. She noticed that more young people are considering forgoing college and its expense in favor of jumping right into a trade career.
"They can get paid while they learn a trade," she said. "That's not the case in college."
Tori Paris is a human resources clerk with the Walmart Distribution Center. She said job fairs can be an effective way to find qualified applicants.
"It helps to have that in-person contact," Paris said. "We can answer their questions right on the spot."
Anna Rodriguez agreed. She is with the Oregon Department of Corrections (DOC) and said a lot of young people aren't even aware of benefits that come with jobs. She was able to talk to several students on Wednesday about the importance of health care coverage and retirement benefits. She was also able to give them some insight into the day-to-day routines of a job with DOC.
"We can give them an idea of what it's like to work here and what a typical day looks like," she said.
Botts, the Mid-Columbia Bus Company representative, said he wasn't expecting to get many applicants on Wednesday considering the age of the students.
"But they might know someone who is looking for a job," Botts said. "I always say, if you know someone who needs money, send them to me."