Many Pendleton music fans know John Storie from his work with the New West Guitar Group, a trio that is always a crowd favorite at the Pendleton Center for the Arts.
On Wednesday, June 12 Storie's visiting Pendleton to perform in a new show with Portland pianist Nikos Syropoulos that has a distinctive jazz angle.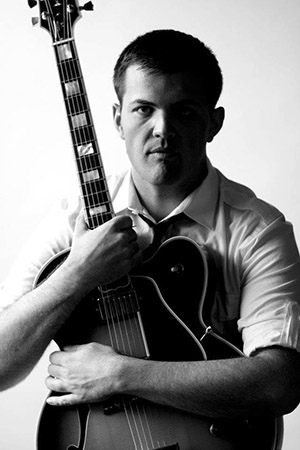 For almost 20 years, John Storie has been an active contributor to the jazz and classical music scenes of Portland and Los Angeles.
Over the years, he has been recognized by the Downbeat Student Music Awards, the National Foundation for the Advancement of the Arts, Jazz Society of Oregon, Cascade Festival of Music, Guitar Foundation of America, and Thelonious Monk Institute of Jazz.
His performances with the New West Guitar Group have taken him to Japan, Canada, and Germany. The band continues to be a driving force in the Los Angeles music scene.
Storie not only tours with New West Guitar Group and other notable musicians, but is also a member of The Mildred Snitzer Orchestra, Jeff Goldblum's jazz band. The project has kept a mostly low profile by performing at small jazz clubs in Los Angeles and New York City, but with the release of a debut studio jazz album the band is finding popular success. They performed this spring on every popular late-night show, including Jimmy Kimmel Live and The Late Late Show with James Corden.
Nikos Syropoulos is an award-winning pianist, composer, and teacher based in Portland and Los Angeles. A three-time recipient of the ASCAP Foundation Young Jazz Composer Award, Nikos has gained national recognition for his original music and has toured internationally. He is the leader of the jazz chamber ensemble, Rozalía, and has independently released three self-produced albums. Named in honor of his late Greek grandmother, Rozalía features Nikos' original compositions written for piano and strings, drawing upon his main musical influences, Sergei Rachmaninoff, Keith Jarrett, and Egberto Gismonti.
The Pendleton Center for the Arts is partnering with Steve Hill at Hill Law Office to bring the duo to Pendleton.  Tickets are $10 and available by calling 541-278-9201 or online at pendletonarts.org. Doors open at 6:30 p.m. and show starts at 7 p.m.