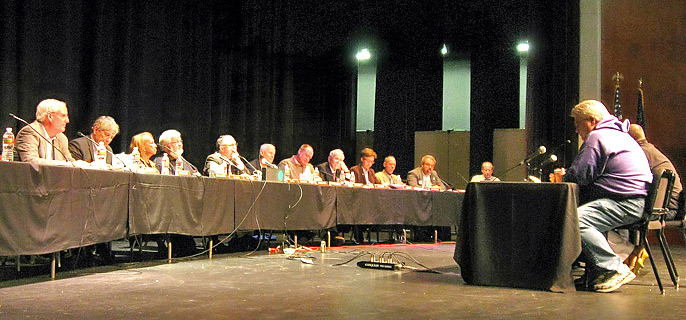 More than 100 people made their way inside the auditorium at Hermiston High School Saturday afternoon to listen and share their opinions with the Oregon Joint Ways and Means Committee about Oregon's upcoming budget.
The speakers ranged from small business owners and elected officials to college students and stay-at-home moms, all with testimony on budget priorities for the state. By the end of the two-hour public hearing, 48 speakers took the microphone, traveling from as far as Heppner and Portland. Six speakers also addressed the committee via video feed from Eastern Oregon University in La Grande.
For Eastern Oregon residents, the top issues were driver's licenses for undocumented residents, funding for the Oregon State University extension centers and proposed cuts to programs for preventing homelessness. Funding for the Department of Human Services, water infrastructure, virtual schools and higher education funding were also priorities for speakers.
Seven Eastern Oregon residents spoke out in support of Senate Bill 833, which would allow people to obtain driver's licenses without proof of citizenship. Under the bill, those applying for a driver's license would still need to pass written and driving-skills tests and prove their identity and residency in Oregon.
Supporters acknowledged illegal immigrants will continue to drive without a license, and the bill makes roads safer for all.
"It's really critical that we get this bill passed," said Eddie de la Cruz, chairman of Hermiston's Hispanic Advisory Committee. "These folks have to go to work. They have to feed their families. They have to take their kids to school. We want to make sure we have these folks out on the road safe and legally responsible."
Two topics drew speakers asking the committee to reconsider funding cuts. Six speakers each approached the committee about a $1.3 million funding decrease for the Oregon State University extension services and the potential cut of the State Homeless Assistance Program.
Speakers called extension services "instrumental" and "vital" to the local economy and agricultural research. Hermiston farmer Bryan Wolfe was one who spoke in support of the Oregon State University sites, such as the Hermiston Agricultural Research and Extension Center.
"We're still facing a $1.3 million shortfall in our budget that will necessitate some cuts in our extension programs and also in our research at the extension center," he said.
Carol Johnson represented the Hermiston Warming Station in her comments. The station provides a safe, warm place for the homeless to stay on nights where temperatures reach freezing. Johnson said the center served people ranging in age from 9 to 73 this year, both "chronically" and "newly" homeless.
"In order to continue this work, it's really important programs like the State Homeless Assistance Program continue," she said. "We do a lot of referrals. We're able to help people get medical and mental health services, where to shower. We do all of this so they can get jobs."
Through House Bill 2971, the proposed budget includes $125 million in cuts to human services across the state. Speakers said cuts will also impact local mental health institutions and programs like Eastern Oregon Center for Independent Living, a nonprofit community-based resource and advocacy center that promotes independent living and equal access for all persons with disabilities in 13 counties.
One woman, Rhonda Polk, broke down in tears while addressing the committee about her experience with the center for independent living.
"I went from being an independent employed person to being on my deathbed," she said. "I wouldn't be here if not for them."
Residents also spoke out about virtual education and increasing funding for higher education. Blue Mountain Community College President John Turner joined a handful of college students in addressing higher education cuts. Turner has been with BMCC for a decade and said the community college has seen budget cuts eight of the 10 years; Turner added the school now receives $2 million less than it did 10 years ago.
"I'm cutting people, services, payroll, just to keep my programs alive," Turner said. "But programs will have to be cut."
Representatives from the Confederated Tribes of the Umatilla Indian Reservation also commented during the hearing, and Hermiston City Councilman John Kirwan was the final presenter.
"What you saw here is the pioneering spirit that still exists in Eastern Oregon," Kirwan told the committee. "We're like an engine that's running on a little bit of gas. With a small investment from the state, we're ready to create not hundreds, but thousands of jobs. We're an economic engine ready to get going. We're ready for some gas, and we can make things happen in Eastern Oregon."