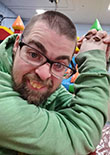 Jonathan L. Wilson of Hermiston was born on July 19, 1984 in Hermiston to Garry and Debra Reid Wilson. Thus began his epic life of crime fighting. He completed his final mission and leveled up on Jan. 2, 2020 at the age of 35.
Jonathan spent his years in Hermiston wearing green and fighting evil all over town. He actively trained with the top athletes of Special Olympics in bowling, track and field, golf, basketball and powerlifting. After every battle he loved to recharge with a cheeseburger, root beer, and chocolate milk shake. As Earth's Mightiest Hero, Jonathan loved to tell everyone who would listen what all of his superhero friends were up to, and he always wore their shirts to support them. Jonathan never knew a stranger and was everyone's biggest fan.
Jonathan is survived by his sisters, Angie Wilson and Sara and husband Clint Shoemake; brother, Bryan and wife Morgan Wilson; nephew, Alec; nieces, Addy and River; maternal grandmother, Doris Reid; and several aunts, uncles, cousins and extended family members and friends.
He was preceded in death by his parents and older brother, Chris.
A celebration of life service will be held at 2 p.m. on Saturday, Jan. 18 at Hermiston Christian Center.
The family is requesting that everyone attending please wear something that reminds them of Jonathan, whether it be a superhero, Star Wars, Pokemon, or just something green.
Donations may be made to Burns Mortuary to help defray final expenses, or to the Pendleton-Hermiston Special Olympics. The family would also like to encourage everyone to spend some time volunteering with Special Olympics in Jonathan's honor.
To leave an online condolence for Jonathan's family, please go to burnsmortuaryhermiston.com.
Burns Mortuary of Hermiston is in care of arrangements.