Juan Vargas Villalobos Sr. died in Hermiston on May 16, 2013, surrounded by his loving and devoted family.
He was born in Fort Hancock, Texas on Nov. 24, 1923 to Mariano Villalobos and Eluteria Vargas.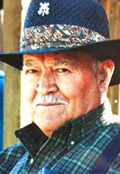 A self-taught and handsome man known to his family as Grandpa John or Papa John, Juan was born in Texas and raised in the small village of Calvillo, Aguas Calientes, Mexico. A survivor of the post-Mexican Revolutionary War environment, he returned to the United States as a migrant worker in his early teens. From the cotton fields of Missouri to the orchards of Washington, Juan followed the seasonal crops before finding a home in the broad expanse of the Columbia River Basin near Hermiston. Landing permanent work with the Union Pacific Railroad, he married Vivian McGill in 1956, beginning a large and loving family. In the early 1970s, he moved to a small piece of land off of Punkin Center road where he remained for the rest of his days raising cattle, "scratching in the dirt," and tending to his "junky place."
An extremely hardworking and fiercely independent man till the end, he did everything his own way. Strong and firm as a father figure, he took pride in his ability to provide for his family, which he valued above all else. His gentle and caring heart increasingly warmed when the first of his nine grandchildren was born, and the smile in his eyes grew with the birth of each great-grandchild. The legacy that he built will endure in his surviving children: Juan Villalobos Jr., Enedina Schulz (Mark), Victoria McWilliams (Terry), Michelle Jones (Jeff), Natalie Hodges (Dale) and Elisa Sobotta (Sam); his 10 grandchildren: Micheal Boedigheimer, Jory and Jared Sobotta, Jessica Harvey, Ross, Jillian and Kate McWilliams, Mallory Villalobos, Perrin Jones, and Julian Trujillo; his five great-grandchildren: Ross McWilliams Jr., Emma, Brynn and Mae Harvey, and Grayson Works.
A celebration of life was held Saturday, May 18, 2013, at his daughter's home in Hermiston. In demonstration of your respect of Juan, you may wish to make donations to the American Diabetes Association or the local humane society.
Burns Mortuary of Hermiston is in care of arrangements.