Katherine "Katie" Monahan Hager, died on March 4, 2013 in Hermiston at the age of 99.
She was born on April 9, 1913 in Condon, Oregon to John J. and Margaret "Maggie" Russell Monahan. Katie graduated from Condon High School in 1931 where she was a member of the girls' basketball team for three years. After graduation, which was during the Depression years, she assisted her parents on their ranch for one year.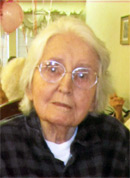 In the fall of 1932, she enrolled in Eastern Oregon Normal School of La Grande, Oregon, now known as Eastern Oregon University. After two years of college she received a teaching certificate in 1934 to teach in the elementary schools of Oregon. Mrs. Hager taught for six years in the elementary schools of Gilliam and Sherman counties. When in Sherman County she was a 4-H clothing leader and chaperoned Sherman County's delegation of the 4-H members to the annual summer school at Oregon State University.
In the fall of 1940, she enrolled as a student at Oregon State University where she graduated in the spring of 1942 with a bachelor of science degree. Condon High School offered her a contract to teach in the high school. She declined the contract to assist her parents on their ranch during the war years.
After World War II she accepted a position with Oregon State University as a county extension agent in home economics. After serving for one year in Morrow County she was transferred to Umatilla County. Her duties were with home economics projects for women and 4-H club members. At that time there was a large participation in both groups. In addition to her employment in Umatilla County she accepted assignments to judge home economics exhibits at county fairs in Wheeler, Gilliam, Wasco, Union, Baker, and Wallowa counties in Oregon. She also judged exhibits at the Oregon State Fair, the Southeastern Washington Fair at Walla Walla and the Central Washington fair in Yakima, Wash. As a county extension agent she was one of the delegates who represented Oregon State University at the National Home Economics Convention in San Francisco. In 1952, she accepted an offer to teach in the Heppner High School. For a period of years she continued to take college courses at various colleges. She was a believer of continuing education. In 1953 she married Homer Hager at Heppner, Oregon. The Hagers moved to Hermiston in 1960 where they had a new home built.
Mrs. Hager continued to teach in the Hermiston School District until her retirement after more than 30 years as a teacher and county extension agent. In October 1979, she underwent a major surgery for cancer in Portland. The following month her husband was stricken with a devastating and painful illness. Her husband, Homer Hager, died in January 1989. Mrs. Hager was a devoted caregiver to her husband for more than nine years. They both shared a love for gardening and caring for their yard. After her husband's death she made improvements to the home and yard. She kept busy caring for the home and yard, sewing, and reading. In 2009, she moved from her home at the age of 96 and settled into Rose Arbor Assisted Living. She was forever grateful for the care she received and the friends she made while living there. Mrs. Hager was especially thankful and appreciative of her neighbors for their kindness and helpfulness. She was a member of Our Lady of Angels Catholic Church and the Oregon State University Alumni Association.
She is survived by her niece, Rene Durfey, Condon, Ore.; nephews, Bob Monahan, Pendleton, Ore., Joe Monahan, Moses Lake, Wash., and Wayne Monahan, Battle Mountain, Nev.; special friend, Francine Evans, Irrigon, Ore.; and numerous relatives.
Mrs. Hager was preceded in death by her husband, Homer; her parents, John and Maggie Monahan; and two brothers, John Edward Monahan and Frank Monahan.
A recitation of the rosary will be held on Friday, March 8, 2013 at 7:00 p.m. at Burns Mortuary Chapel, Hermiston, Ore. Funeral mass will be held on Saturday, March 9, 2013 at 9 a.m. at Our Lady of Angels Catholic Church, Hermiston, Oregon. Burial will follow at the Hermiston Cemetery.
Contributions in Katie's memory may be made to Catholic Daughters of the America's or the American Diabetes Association.
Please sign the condolence book at burnsmortuaryhermiston.com.
Burns Mortuary of Hermiston is in care of arrangements.