Kathleen Phyllis "Kathy" Berkley died Thursday, Feb. 28, 2013 at Kadlec Regional Medical Center in Richland, Wash., at the age of 78.
She was born Nov. 14, 1934 at Monroe, N.Y., to parents, Harry & Florence (Thorpe) Conklin.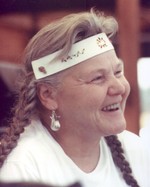 She was the youngest of 16 children. Her Native American parents were from the Onondaga Tribe in New York and lived on the reservation. Kathy and her siblings were adopted by Pastor Harry Conklin when Kathy was 4 years old. She married at age 15 and had two daughters.
Much of her early life was difficult for Kathy. According to her, it was at one of the most horrific times of her life that something wonderful happened. Her two daughters were very young when this event transpired. Kathy had tried various ways of coping with her problems with little or no success. That day as she was working in her kitchen and listening to her radio she heard a preacher talking about a God who cares and loves us right where we are. It was right there in her kitchen in New York that day that Kathy invited Jesus to be Savior and Lord of her life. Kathy said her life was never the same after that.
As time went on, Kathy took nurses training at Saint Luke's Hospital and worked in the medical field for over 20 years. She was in an accident that broke her neck and was unable to perform her duties as a nurse, so she became a commercial driver. She even drove long-haul trucks for a time. Her commercial driving career also got her a position to chauffer officers at West Point. When Kathy met Peter Yates Berkley, she knew God had answered her prayers for a husband. She and Peter married on April 7, 1990 in Hunter Leggit, Calif. While they were in Hunter Leggit, Kathy was blessed to have three young men come into her life who became the sons she never had. David Halliday and Peter had been best of friends and became like a son to Kathy. In fact, David walked down the aisle that day of the wedding. Todd Campbell and Eric Ojgen were also great friends and they two became sons and family to Kathy and Peter. She always referred to the three of them as "My Boys."
In addition to her other many talents, Kathy was an accomplished cake decorator, having schooled at the highly-touted Wilton School. There just didn't seem to be much of anything she couldn't do. She and Peter had a small business going in that field for a while. Kathy and Peter also did a great deal of traveling after their marriage before they settled down in their home in Hermiston, Ore. They traveled to Germany together, went to England and traveled around the Northwest enjoying the beauty found here.
It was Jan. 10, 2002 when Peter Yates Berkley passed away, and a little of Kathy left that day, as well. She and her best friend and lover Peter had so enjoyed their years together, and after his passing she never stopped talking about Peter. After Peter's death, Kathy continued to pour her energy into taking care of their lovely place, raising chickens, and harvesting the fruit from the trees and vines she and Peter had placed on their property. She had friends from her church family that helped out. Randy would come by to check on her on a regular basis, and Dale and Sue kept a watchful eye on her until her final moments. Others from her church family also were there to help out. And she always looked forward to David's visits. But in her heart, Kathy was ready to graduate and go home to be with her Savior and Lord.
She was preceded in death by her husband, Peter Yates Berkley, in 2002.
She is survived by daughters, Charleen Blake of Monroe, N.Y., and Jane of California.
A memorial service was held on Wednesday, March 6, 2013 at Grace Baptist Church in Hermiston.
Please send condolences at burnsmortuaryhermiston.com.
Burns Mortuary of Hermiston is in care of arrangements.