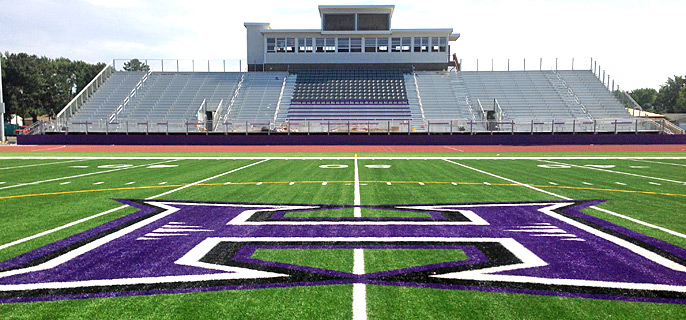 [quote style="2″]Grand Opening Set for Aug. 23; Season Kicks Off Following Week[/quote]
What do the Dallas Cowboys and the Hermiston Bulldogs have in common? They both play on one highest quality and safest playing fields anywhere.
The renovated Kennison Field will have its grand opening on Aug. 23 and one week later the Bulldogs will put the new field to the test when they open their season against Putnam at home on Aug. 30.
Months of research, on-site visits, and testimonials from players, coaches, and stadium mangers, resulted in the Hermiston School District selecting Hellas Construction to install the state-of-the-art Matrix© Turf. The selected product is the same system found in the Dallas Cowboys' Stadium and as well as the $60M Allen Eagle High School Stadium in Allen, Texas (the most comprehensive and expensive high school football complex in America).
According to district officials, the Matrix© Turf System was chosen due to its safety benefits, durability, and playability. As an added safety and resiliency component to the artificial turf, community donations helped cover the costs of an E-layer pad, which installs underneath the turf product. The pad provides increased field cushion, longer field life, and decreased replacement field costs long term.
The school district contracted with BioMechanica of Portland to perform a comprehensive impact test of the new playing field. Impact testing (commonly referred to as g-max testing) measures the shock-attenuation performance of sports surfaces. The higher the g-max value, the poorer the shock-attenuation performance of the surface. For synthetic surfaces, industry standards recommends a g-max value of less than 200. Any field over 200 is considered "too hard" and may result in increased player injury and concussion risk. As reported by BioMechanica, Kennison Field boasted a field average g-max of 101, an ideal result for player safety and playability.