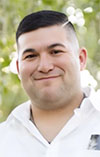 Kyle Ray Saucillo, formerly of Hermiston, passed away on Dec. 29, 2022 in Pueblo, Colo. at the age of 34.
He was born on Dec. 3, 1988 in Hermiston to Roberto Saucillo and Betty Gutierrez.
Kyle lived in the Hermiston area his whole childhood and was a graduate of Hermiston High School. Kyle was a wrestler and was part of the Hermiston Grid Kids football program in his younger years.
He worked for Amentum, and then moved to Pueblo, Colo. to continue his employment. On March 16, 2014 he married Becky Vazquez, and from this union had four children.
Kyle enjoyed many hobbies including fishing, hunting and exploring the great outdoors. His most recent enjoyable outing was taking his three older children to wrestling tournaments.
Kyle was a one-in-a-million guy and touched many lives during his short time here. Most of all, Kyle was a loving husband and exceptional father.
He is survived by his wife, Becky Saucillo; his children, Mikayla, Arianna, Ethan, and Amelia; his mother, Betty Gutierrez; his siblings, Joe (Lori) Gutierrez, Kyla (Josef) Forsberg, Eric (Amy) Gutierrez and Keith (Naomi) Saucillo; grandmother, nieces, nephews, numerous aunts, uncles and cousins; and many extended family members.
Kyle was preceded in death by his father, Roberto Saucillo.
A celebration of life will be at 10 a.m. on Friday, Jan. 27, 2023 at New Hope Community Church, Hermiston.
A private family burial will be in the Stanfield Cemetery following.
To leave an online condolence for the family, please go to burnsmortuaryhermiston.com.
Burns Mortuary of Hermiston is in care of local arrangements.