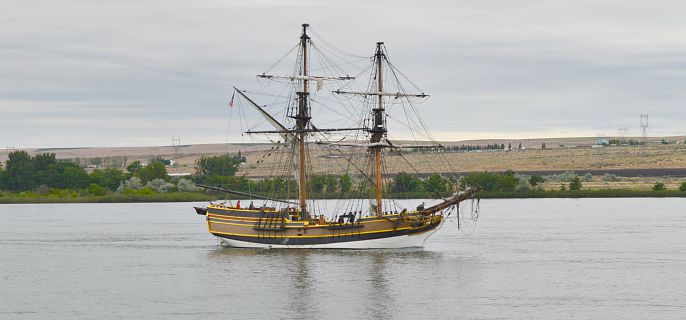 McNary Lock and Dam staff will allow access to the north side of the navigation lock Monday afternoon to allow visitors an up-close look at a "tall ship" as it locks past the dam on its way to Arlington, U.S. Army Corps of Engineers, officials announced.
The Lady Washington is anticipated to pass McNary Dam via its navigation lock between 10 a.m. and noon on Monday, Aug. 10. The ship cannot guarantee an arrival time.
Dam officials will allow viewing access along the navigation lock during those hours. Those wishing to see the ships locking through should arrive early at the north shore entrance to the dam (Washington side of the Columbia River) to allow time for security checkpoint processing, parking and walking to the navigation lock wall. Photo identification is required at the security checkpoint – only U.S. citizens will be allowed inside secure areas of the dam. Visitors should be sure to wear closed-toed, sturdy shoes while at the dam.
"It's really unusual to see this type of sailing ship this far up the Columbia River; the last time it came through our navigation lock was in 2013," said Dave Coleman, Operations Project Manager at McNary. "We thought it would be nice to create an opportunity for the public to get a really close look as it passes by."
Cameras will be allowed, however, visitors will not be allowed to bring in camera cases, purses, bags, briefcases or similar items into secure areas of the dam. These items cannot be checked in with the security guards and should be left in visitors' vehicles. Visitor access at the dams is subject to change without notice.
The Lady Washington, a full-scale reproduction of the original Lady Washington built in the British Colony of Massachusetts in the 1750s, is the official ship of the State of Washington. The original vessel carried freight between colonial ports until the American Revolutionary War, when she became an American privateer. In 1787, after the war, she was given a major refit to prepare her for an unprecedented trading voyage around Cape Horn. In 1788, she became the first American vessel to make landfall on the west coast of North America.
To get there from Highway 82, take Exit-131 and travel 2 miles east on the dam access road. The dam entrance is located at Columbia River Mile 292, on the north (Washington) riverbank.
For more information about this event, call 541-922-2268. For more information about these ships, go online.