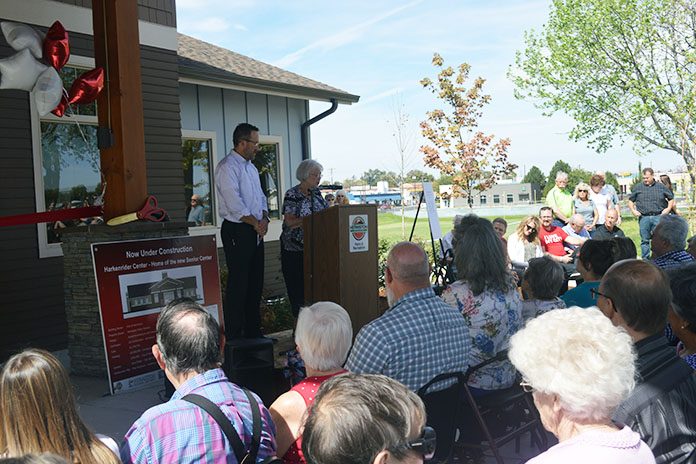 More than 200 people showed up at Ridgeway Avenue on Saturday to celebrate Hermiston's new senior center and to honor the public servant for whom it was named.
"Frank would be thrilled to see all the people here today as I am," said Bev Harkenrider, wife of the late Frank Harkenrider who served the city for more than a half a century before he passed away in July 2017.
The former mayor and city council member was on hand in April 2017, however, when the groundbreaking for the Harkenrider Senior Activity Center was held. Even though the center existed only on paper at the time, Harkie gave it his full blessing on that cold, windy day.
"It's going to be a dandy!" he said.
The new center dwarfs the former senior center that was located on Orchard Avenue on the old Umatilla County Fairgrounds. The new building is 7,000 square feet, located near the heart of downtown, and includes a state-of the-art kitchen, the latest in energy efficient technology, a large fireplace and an unfinished basement.
The center is the result of partnerships between city, county, state and federal entities as well as the Hermiston School District and a lot of work and contributions from the people who knew Harkenrider best.
"He loved not just the city, but the surrounding farmland and the people of the county," Bev Harkenrider said on Saturday. Both Bev and Hermiston Mayor Dave Drotzmann noted that Frank — Hermiston's biggest sports booster – would have been thrilled with the Hermiston Bulldog's comeback victory the night before over the Richland Bombers.
Former Umatilla County Commissioner Dennis Doherty recalled all the work and planning that went into making the new center a reality with the key factor being the application for a Community Development Block Grant from the federal government. Hermiston Parks and Recreation Director Larry Fetter spearheaded the project that came with a massive amount of rules and red tape that he had to work his way through.
"That's why I don't take calls from Dennis Doherty anymore," Fetter told the crowd on Saturday.
The result, however, is what Doherty called "the premiere senior center in the state of Oregon."
Irene Miller, the president of the senior center board, thanked everyone on the board who helped with the planning and said she hopes the new center can be a welcoming place for all seniors.
"Our dream is that every senior will want to be a part of what's going on here," she said.