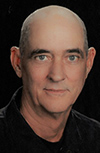 Larry Robert Lewter of Hermiston passed away in Richland, Wash. on April 13, 2021 at the age of 72.
He was born on April 20, 1948 in Amarillo, Texas to Forest and Anna Raef Lewter.
Larry moved to Vista, Calif. as a child, where he attended school. He graduated from Vista High School in the class of 1966. Next he attended Palomar Junior College in San Marco, Calif. for two years. He then transferred to Eastern Oregon University in La Grande, where he studied for six months. He was drafted into the U.S. Army and served during the Vietnam War. He was a member of the 82nd Airborne, B Company, 3rd Battalion, 505th Infantry stationed in Fort Bragg, N.C. and the 4th Division, A Company, 1st Battalion, 35th Infantry stationed in Central Highland, Vietnam. After his honorable discharge, he returned to Eastern Oregon and had resided in the Hermiston area since that time.
Larry worked in several positions for the Oregon Department of Transportation starting in 1971, retiring 32 years later in 2003. He then worked as a security guard at the Umatilla Army Depot for a short time. His last job was as a bridge inspector for Fluor, where he worked from 2005 until 2013.
Larry enjoyed hunting, golfing, target shooting, playing the video game "World of Tanks" and expressing his sense of humor. He was a member of Our Lady of Angels Catholic Church in Hermiston and he loved spending time with his family.
Larry married Betty Herrera on July 29, 1972 at Our Lady of Angels Catholic Church in Hermiston.
He is survived by his wife of 48 years, Betty; daughter, Monica (Danny) Rodriguez; son, Andy (Desa) Lewter; daughter, Tamara (Randy) Lewter-Gerard; eight grandchildren, Amber, Cody, Chaz, Trevor, Justine, Evan, Damian and Preston; three great grandchildren, Kaden, Wyatt and Amarissa; sister, Sheron Lewter; and several nieces and nephews.
Recitation of the rosary will be at 12:30 p.m. on Tuesday, April 20, 2021 at Our Lady of Angels Catholic Church.
A funeral Mass will begin at 1 p.m. on Tuesday, April 20, 2021 at Our Lady of Angels Catholic Church.
Burial with military honors will follow in Hermiston Cemetery.
Family suggests memorial contributions to the American Heart Association or to the American Cancer Society.
To leave an online condolence for the family, please go to burnsmortuaryhermiston.com.
Burns Mortuary of Hermiston is in care of arrangements.