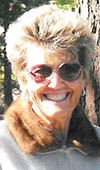 Caroline LaVonne Mader passed on May 11, 2019 at the age of 85.
She was born on March 16, 1934 near Colfax, Wash. to William and Mary Kate Hall Willson.
She attended Steptoe Grade School and graduated from Colfax High School in 1952. LaVonne attended the University of Idaho and was a member of the Kappa Kappa Gamma Sorority. She graduated in 1957 with a major in music and minors in physical and elementary education. She taught school one year and substituted many years.
In August 1955, she married Frank Mader in Colfax. They lived in Texas and Louisiana while Frank was in the Army. They worked and saved to buy their first cattle ranch near Jordan Valley and raised their two children, Shannon and Kirk, there. With the nearest church being 30 miles away and God being extremely important to her, LaVonne started an American Missionary Fellowship Sunday school and Bible study that met two times a month in homes on Succor Creek. She also taught music at the country school her kids attended. In 1977 they moved to Ruby Valley, Nev. and then in 1979 moved to the Butter Creek farm near Echo, where they lived for almost 40 years.
LaVonne's greatest joys were being a mom and grandmother and investing in her friendships. Sewing, yard work, music and helping Frank achieve his goals were an important part of her life. She was a member of Hermiston First Christian Church and sang in the choir. She belonged to the Pine City Extension Study Group, Oregon Cattlemen's Association and Oregon Wheat Growers League. LaVonne was extremely devoted to family, whether it was her siblings or her children and grandchildren. She was a beloved wife, mother, grandmother, great grandmother and friend.
LaVonne is survived by daughter, Shannon (Tim) Rust, Echo; son, Kirk (Donna) Mader, Orovada, Nev.; five grandchildren, Brian Rust (Jordan), Brooke Carnine (Randy), Brynna Rust, Quinn Briggs (Chase) and Kade Mader; three great grandchildren, Karsten and Rhett Carnine and Andy Rust; and numerous nieces and nephews who were very special to her.
Services will be held on Monday, May 20, 2019 at 1 p.m. at the Hermiston First Christian Church, with a luncheon to follow.
Burial will be in Colfax, Wash. on Tuesday, May 21, 2019 at 11 a.m.
Contributions may be made to Sharing Alongside, P.O. Box 33663, Seattle, Wash., 98133 (Gary and Miriam Mader Barckert), or First Christian Church Memorial Fund, 775 W. Highland Ave., Hermiston, Ore., 97838.