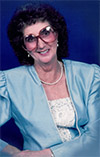 Lela Belle McConnell Allen Olson, former Hermiston resident, died on Sept. 8, 2020 at her home in Moses Lake, Wash. at the age of 90, surrounded by her beloved children, grandchildren and great grandchildren.
She was born on May 19, 1930 in Fruitland, Idaho to William Huff McConnell and Beulah Stuart McConnell.
Lela moved with her parents and brother to Hermiston in 1940. Lela's first two years in Hermiston were spent living in a tent with her family during World War II at a property on 11th Street, while her dad helped build the Umatilla Ordnance Depot. This "camp ground" was made up of about 60 camp sites with six outdoor toilets provided, and became known as Tertle Town. As both parents were needed to work, Lela's older brother, Warren, was in charge of babysitting her each day. He was only 8 years old when given the responsibility to care for a 3-year-old. After graduating from Hermiston High School in 1948, she worked at the depot. Her job title was Supervisory Clerk Typist. She supervised three other women, and her boss was Willard Baker, who eventually became her uncle-in-law.
In 1954, Lela met a U.S. Navy frogman named Gene Lowell Allen while he was home on leave. They married on Sept. 17, 1955 in Boardman. From this union were born four children, Stacie, Stuart, Stephanie and Scott. Lela later married Army intelligence officer Andrew Olson in 1993; he passed away in 2007.
Rumor has it that Lela was invited to New York City to dance with the Rockettes. While her parents wouldn't let her go east, her high kicking skills would come in handy as she entered and won several local dance competitions. Her earlier favorite dance was the jitterbug, while in later years she could "cut a rug" dancing the country two-step. Her continued dexterity was often commented on by her caretakers. They were continually amazed with some of her physical abilities. Later in life she also enjoyed traveling, jewelry-
making and rock/gem collecting. She never met a stranger, making most people laugh – sometimes at her, sometimes with her.
She is survived by her four children, Stacie (Craig) Palmer, Stuart (Sarah) Allen, Stephanie (Ed) Allen Washington and Scott (Barbara) Allen; grandkids, Ryan (Tamara) Palmer, Todd (CJ) Palmer, Matthew (Karly) Palmer, Chad (Valarie) Palmer, Lizzy Allen, Carly Allen, Clayton Allen, Nathanael Allen and Joshua Allen; nine great grandchildren, Kash, Mason, Harper, Taric, Tate, Shae, Capri, Libby and Archer, with another one on the way; and her older brother, Warren McConnell, whom she adored immensely.
A graveside service was held on Saturday, Sept. 12 at the Hermiston Cemetery.
Please share memories of Lela with her family at burnsmortuaryhermiston.com.
Burns Mortuary of Hermiston is in care of arrangements.