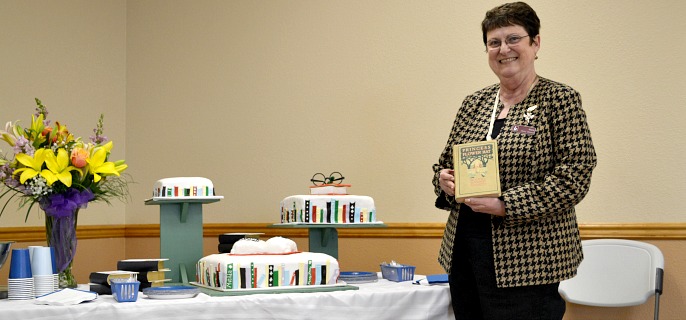 There were 2,509 Carnegie Libraries built between 1883 and 1929 – 1,689 of them in the United States. On Friday, the Hermiston Public Library – a Carnegie Library in its early days – celebrated its 100th anniversary.
Guests, including State Librarian Mary Kay Dahlgreen, were on hand to peruse the library's artifacts and learn of its 100-year history. The Hermiston Public Library officially opened on May 16, 1914 in what is now the RoeMarks building. It moved into the Carnegie Building in 1919 (which is now home to the Hermiston Building Department) and into its current location in 1989.
Among the historical tidbits to be learned Friday was the fact that Hermiston's first librarian, Edith Prann, was paid 50 cents per afternoon and another 50 cents during the library's evening hours. Since the library was only open on Saturdays in the beginning, that didn't add up to much.
"She earned her $4 a month," said Marie Baldo, who has served as the librarian in Hermiston for the past 10 years. Baldo is one of only 12 people to serve as the city's librarian. While Prann only served a year, her tenure was 12 times longer than the second librarian. In 1915, C.D. Porter, the librarian's janitor, was asked to serve as its librarian, as well. One month later, he had enough and went back to strictly janitorial work. The longest serving librarian was Irene Bronson, who served from 1921 to 1946. Ruth Woodard and MLou Williams have the second-longest tenures at 20 years each.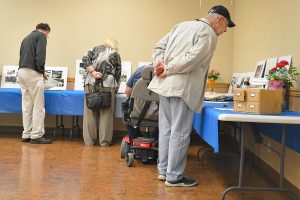 Bonnie Cobb of Hermiston found her own interesting piece of library history. She discovered her father, former Hermiston Municipal Court Judge Marvin Dick, had purchased a brick to help pay for the current library.
"He wasn't much of a reader, but he supported many things in Hermiston," Cobb said.
The rarest artifact on display Friday was the only remaining book from the library's initial collection, Princess Flower Hat by Mabel Osgood Wright.
While much has changed about libraries in 100 years, the essentials haven't. Just like 100 years ago, the library is lined with shelves filled with books. There are chairs and tables to sit at and read. And there's a circulation desk where the books are checked out. But along with the 30,000 physical books at the Hermiston Public Library, there are also 30,000 digital books that can be accessed online.
"Today's library has a million-mile reach," she said.
Baldo said libraries will likely be very different 100 years from now. There probably won't be any physical books on shelves – everything will be accessed from a computer.
"The future just walked out," she said, pointing to a couple of young children who were leaving. "We may still enjoy holding a book in our hands, but the younger generations are used to everything being digital. Things are changing all over."
Friday's celebration included a creative library-themed cake baked by Meme Martinez and Angie Villegas. The displays were done by Tami Brown and Jodi Hansen, and entertainment was provided by the Hermiston High School Jazz Band.
More Stories from Northeast Oregon Now:
Sandstone Principal Candidates Make Their Case
Ammonia Leak Forces Highway Closure, Evacuation
HHS Shines Spotlight on Top Students