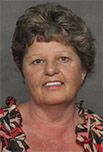 Linda Lou Johnston went on to be with her Lord and Savior on March 27, 2021 surrounded by her loved ones at the age of 68.
She was born on Nov. 12, 1952 in Salina, Kan. to Charley and Margaret Myers McGinley.
As a young girl she moved to Nampa, Idaho with her family, where she grew up and graduated from Nampa High School in 1971. Later that year she married Don L. Duncan, and that's when she was blessed with her daughter, Dawn "Michelle." They later divorced. Linda was a devoted mother, and she and Michelle spent many years "just the two of them."
In 1986 Linda met the "love of her life," her ACE Patrick E. Johnston. They were married on June 3, 1988. Linda was a devoted wife for 32 1/2 years. Linda loved her ACE more than he would ever know. From this marriage Linda and Michelle were joined with Triena, Patrick M. and Andrew, which she loved as her own children.
Linda worked at Simplot, Short Stop and for Blue Mountain Pathology at Good Shepherd. She retired due to health concerns in 2018. Linda loved teaching Sunday school at The Country Church, where she was a longtime member. Her greatest joys were her grandchildren, and she loved them all in a very special way. In her final days it was especially important for her to say "Good bye" to each of them, which she did.
Linda enjoyed doing crafts, and on occasion you would see her selling them at bazaars. Holidays were very special because it meant that all of the family would be together, especially Christmas and Easter. Linda and Pat were two of the founding members Hermiston Classics. They attended and enjoyed many car shows through the years. She loved fishing and camping but cherished time with her family the most. Linda's life is a true reflection of God's goodness. She
loved and was loved by all. She lived life her way right up to the end. Linda is survived by her husband, Patrick E. Johnston, Hermiston; daughter and son-in-law, Dawn "Michelle" and Leo Luna, Irrigon; daughter, Triena Johnston White, Hermiston; son and daughter-in-law, Patrick M. and Melanie Johnston, Hermiston; son, Andrew Johnston, Hermiston; grandchildren, Leon, Isaiah, Joel, Esmeralda "Lala," Travis, Josh, David, Jennifer, Jessica, Jacob, Richard and Jerry; numerous great grandchildren, and a special one, her Peanut, that will be arriving soon; as well as numerous nieces, nephews, cousins, aunts and uncles. Her lifelong best friend, Redda Eubanks, and many more friends that she held dear in her heart. Her dog Buddy and cat Callie.
Loved ones that preceded her in death are parents, Charley and Margaret; sister, Maxine; brothers, Doyle, William and Raymond; grandson, Greg White; and a nephew, Dennis McGinley.
A funeral service for family and friends celebrating Linda's life will be held on Saturday, April 3, 2021 at 11 a.m. following state guidelines at the family home, 32270 W. Columbia Lane, Hermiston.
Burial will follow at the Hermiston Cemetery.
The family would like to thank Vange John Memorial Hospice for helping bring Momma home for her final days. Davita family and Dr. Fadi Akoum for their care. A very special thanks to Dr. Barbara Atwood and staff for the amazing care and love over the past 25 years.
Those who wish may make contributions in Linda's memory to Vange John Memorial Hospice Education Fund at 645 W. Orchard Ave., Hermiston, Ore., 97838.
Please share memories of Linda with her family at burnsmortuaryhermiston.com.
Burns Mortuary of Hermiston is in care of arrangements.