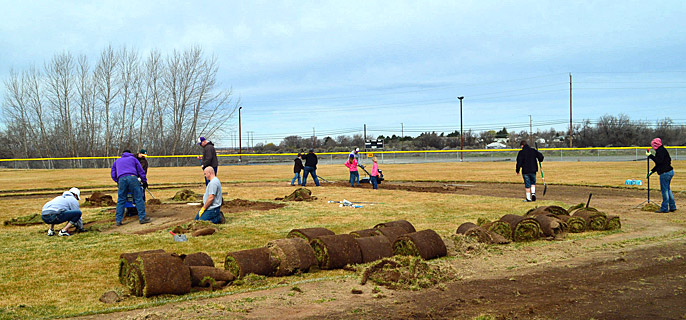 With just three weeks until opening day, volunteers began the annual ritual of readying the Field of Dreams for the 2013 Hermiston Little League season.
About 50 volunteers of all ages met up at the fields Saturday morning to prepare the four diamonds for the 49th season of Little League in Hermiston.
"This is our annual clean-up day and it's done with 100 percent volunteers," said Dave Caldwell, Hermiston Little League president. Caldwell said about four or five volunteers help maintain the field year-round, but the major work takes place during the weekends leading up to the start of the new season.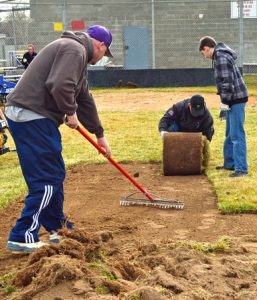 The big undertaking on Saturday was re-sodding the infield of one of the two minor league fields at the Field of Dreams complex. Plans for the field also call for bringing in new "high-tech" dirt that Caldwell expects will greatly improve playing conditions and cut down on cancellations during the season due to weather.
"With our great Eastern Oregon spring weather of rain at 4 p.m. and wind at 5 p.m., the field becomes a mud pit and we'd have to call off a lot of games," Caldwell said. The new dirt will provide better drainage, making for a less muddy and more playable field, he said.
The workload was made lighter Saturday by the large turnout of volunteers.
"Like any organization," said Caldwell, "you're only as good as your volunteers and this year we have a really good group."
Caldwell said the big project next year will be lighting the entire complex. Only the majors field currently has lighting, but he hopes to have lighting installed on the other three, as well as new lights for the majors field. Hermiston Little League is currently raising money for the $72,000 upgrade and has approximately $60,000 in the bank. The lights will allow the league to schedule more games each day.
2014 promises to be a big one for Hermiston Little League. Not only will it celebrate its 50th year, but the Field of Dreams will also play host to the Division 5 tournament. Caldwell said about 50 teams will converge onto the fields for
the tournament.
"We're hoping to make it a big event for our town and our Little Leaguers," said Caldwell.
Hermiston Little League has enjoyed steady growth over the years, said Caldwell, despite newer programs like track and lacrosse drawing from the same pool of young athletes.
"This year has been a real growth year for Hermiston Little League," he said. A total of 595 kids have signed up to participate this year.
Opening day is scheduled for April 6 at the Field of Dreams. Visit the Hermiston Little League website throughout the season for schedules, standings and more.