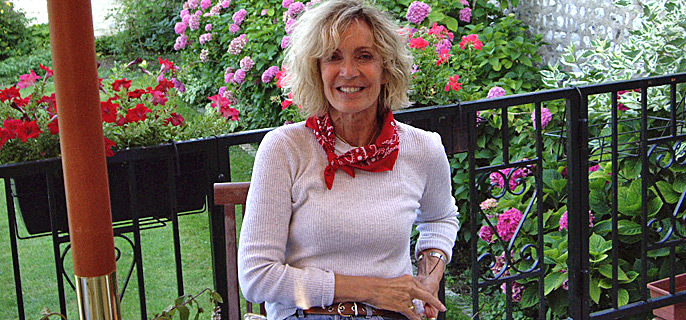 [quote style="2″]Jean Christofori Howton's Life Is a Work in Progress[/quote]
A couple of years ago, Jean painted her three-story house by herself — by hand. Last summer, she decided to build a pen in the yard for her two schnauzers, Doogie and Pip, and to add onto her deck—also by herself. Watching her from my kitchen window across the street, I had difficulty believing that she was in her early 70s.
My dad moved to Hermiston the autumn before my sixteenth birthday. After introducing himself to most of the new neighbors, he made a point of mentioning to me (an aspiring artist) that a world-renowned painter lived across the street: Jean Christofori Howton had amazing talent, he told me—and she traveled to France for art shows every year or two; how exciting!
"Wouldn't you love to meet her?"
"Yes, of course—"
"And you could show her some of your work and get feedback and — "
"Wait a minute, slow down, Daddy."
"But you'll be coming up to visit for spring break, and it'll be a great opportunity!" "Alright," I sighed.
March arrived in Hermiston, as did Mom and I. The fateful day came at last, and I showed Dad the current project in my sketchbook. It was only an experiment—an abstract combination of lines and shading, meant to resemble a cat sitting on a brick wall. All I wanted was a bit of critique from him. Instead I got:
"You should show that to Jean! As a matter of fact, she's home, and why don't we go over right now!"
"Alright . . . "
With my little pencil drawing in hand, I followed him across the street and into the shadow of Ms. Howton's tall house and tall trees. The next thing I knew, the tall woman herself loomed in the doorway before me, wearing a charcoal sweater and gray trousers. This was the first time I had ever seen her, and I could feel myself shrinking under her gaze. Jean's thick glasses distorted my view of her eyes, which appeared to be double their natural size. It was as if she could inspect every detail of her surroundings. Her slender arm held a telephone to her ear, and her articulate, businesslike voice offered a brief greeting to us and then resumed the conversation with whatever agent, associate, or prospective art show coordinator was on the line. After a quick goodbye to him, Ms. Howton said hello to us. Dad spoke; I squeaked; I held up my little doodle; she nodded and said something that my nerves prevented me from hearing. With a flash and a blur and a blushing farewell, I discovered that somehow Dad and I had made it back to our front door.
When summertime rolled around and Mom and I had moved to Hermiston as well, I could glance through the window on almost any day to see Ms. Howton in her yard. Was this the same down-to-business professional I'd met a few months before—this woman who spent hours playing in the sunshine with her dog, wearing her worn, paint-splattered gardening attire? When Doogie wandered down the street, I could hear Jean call after him, "Doogie! C'mere, c'mere! He wuns fast as he tan-tan!" and back to his mommy the pooch would run. What a sight she was.
Her tousled shoulder-length, blonde-and brown-dyed hair frizzed and flitted about in the wind.
Even from across the road, I could see that when she laughed at Doogie, her whole face smiled.
Who was this lady?
My opportunity to get to know her came the following summer. She mentioned to my dad that she could use some help figuring out more than just the most basic functions of her computer. To my chagrin, Dad praised my skills in such areas and suggested that she ask for my help. That week, I rang her doorbell and was greeted by Doog's incessant bark.
"He just likes to talk," she said as she led me from the front door to the kitchen. Along the way, I saw every wall showcasing at least one work of art. There were still-life paintings of colorful cabbages, scenes of lounging barnyard animals, and enormous canvases so full of abstract texture that I couldn't decide where to look. Her house contained everything from half-finished sketches to masterpieces which sat in patient splendor, waiting for her next trip to Normandy. And here I was – her teen-aged tutor.
Jean was full of questions — too many for me to answer in one sitting. So she suggested that I come over regularly to give her techie lessons in exchange for a little cash and a few art lessons—and maybe even a few cookies. How could I refuse? Once or twice a week, I went over to visit with her and give her the rundown of any specific program on her desktop. We began by organizing her pictures. Photos from her time abroad and snapshots of family members appeared on the screen, and Jean would reminisce and share their stories with me as Doogie snored on her lap.
One day she greeted me at the door with news that she had bought Rosetta Stone and planned to learn French. Would I like to learn with her? Absolutely. Within two hours, we were saying "la fille boit du lait" like it was nobody's business.
To this day, Jean approaches every aspect of life with the same attitude. Time to learn a new language? Sure, why not? Who wants to take a road trip through the Columbia River Gorge just to see how beautiful it is? She does it all the time. Taking care of a new puppy is too labor-intensive? Jean has managed it. Whenever I ask how her current project is going — whether it is a work of art, an idea for home renovation, or an intellectual pursuit — her answer is the same: "It's a work in progress."
The last time I walked over to visit with her, I had just arrived home from college for the summer. It was only the middle of May, and she was already taking advantage of the nice weather.
I took a seat on her newly painted lime green bench and asked, "What have you been up to?"
"Well, I've been itching to expand the deck." She motioned toward the enormous boulder beside her house and described the planks that would encircle it. "I've also been working on a fire pit right here," she said as she eyed the large crater in the center of her yard. We chatted about her dogs, about school, and about my plans for the summer; then I headed home for lunch. Halfway across the street, I turned back to wave to her, but she was already down in the crater with shovel in hand, her hair flailing in the breeze.
More Stories From Northeast Oregon Now:
Driver Card Campaign Called Public Safety Issue
Hermiston Residents Can Help Pick Next City Manager
Hermiston Woman Devotes Her Time to Knitting Caps for Newborns
Meet Dick Jackson: Hermiston's Clock Doc