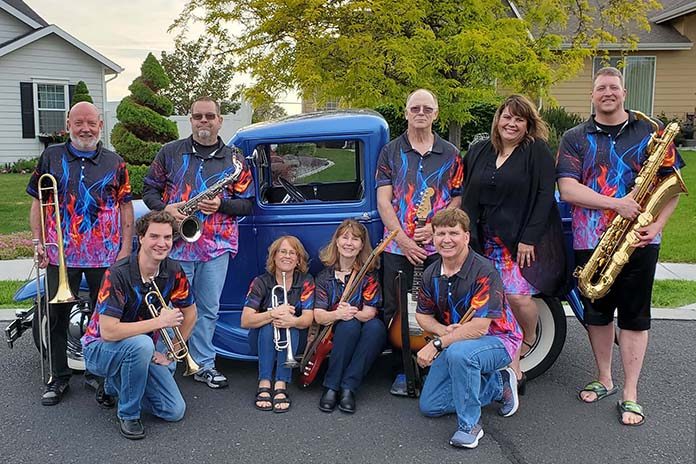 When Brad Rozema describes the band Brass Fire, often he first has to dispel the stereotype that those unfamiliar with the group jump to; that it's a LOUD brass band.
The truth is that the group, while sporting a large horn section, features musicians who have spent years honing their craft and the nuance of their instruments.
That work will be on display when the group performs a tribute to Chicago, one of the most popular bands of the 1970s, on Saturday, Oct. 22 at the Pendleton Center for the Arts. Doors open at 6:30 p.m. and the show starts at 7 p.m.
Rozema formed the band nine years ago with a core group of musicians and over the years other performers have joined in. The group has had members from Tri-Cities, Walla Walla, Umatilla, Pendleton, Ione, and Hermiston, and the current ensemble features a diverse age group.
"We've got a musician who's 16, and people in their 20s, 30s, 40s, 50s, and 60s," Rozema said.
The current players include Jill Scanlan on trumpet, Dan Allen on trumpet, Andy Cary on saxophone, Steve Anderson on saxophone, Cindy Eddy on bass guitar, Jeff Bemrose on drums, Carlie Allen on piano, Jonna Kopta on vocals, Ron Taft on guitar, and Rozema on trombone.
The playlist of the band Chicago is particularly suited to the group, as a vast majority of the music was written for three horns – trumpet, trombone, and tenor sax – all of which are featured in Brass Fire. The music is more challenging than traditional pop music, much of which focuses on lyrics or the vocal tonality of the singer, but often relies on simple cords and structure.
"From the standpoint of musicianship, these songs require much more practice and finesse," said Rozema.
The band Chicago is still touring today, 55 years after forming and 46 years after their first number one song, "If You Leave Me Now," hit the Billboard charts. Their iconic sound formed the backdrop for the 70s, with songs like "25 and 6 to 4", "Does Anybody Really Know What Time It Is?" and "Saturday in the Park." An incredible 25 of their 32 albums have been certified platinum and they've sold more than 100 million records.
The show is made possible through the support of The RBH Group, LLC, a long-time local patron of the arts in Pendleton. Tickets are $10 and available at PendletonArts.org. For more information contact the Pendleton Center for the Arts at 541-278-9201 or by email at director@pendletonarts.org.