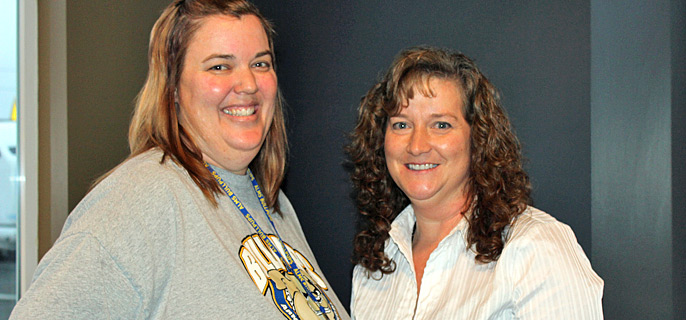 [quote style="2″]Swarat, Cox to Take Part in California Workshops[/quote]
Two Umatilla County math teachers will head to California next month to help shape the future of standardized testing.
Umatilla High School teacher Nancy Swarat and Armand Larive Middle School teacher Jennifer Cox will travel to Los Angeles next month to participate in the Smarter Balanced Alignment Study.
The Smarter Balanced Assessment Consortium is a group of states working together to create standardized testing aligned to common core standards. All students in the participating states will take the same standardized tests. In Oregon, it will replace the Oregon Assessment of Knowledge and Skills, better known as the OAKS test.
Swarat and Cox are participating in one of five workshop panels nationwide. They will fly to Los Angeles on Sunday, March 16, participate in the panels March 17-18, then fly back to Oregon after the conference ends on Tuesday night.
The two teachers applied in December and found out they were accepted on Jan. 10.
"I was thinking that I wouldn't be accepted, even with all the things I've done for the state," Swarat said. "They were only picking a few from the state of Oregon, and I know some really great educators in Oregon."
Fifty educators from Hawaii to Montana are participating in the workshop; 10 are from Oregon schools. The teachers work with students from third grade through high school and represent either mathematics or language arts. During the workshop, all will be discussing and analyzing questions and material for the Smarter Balanced Assessment.
"Items have been written, and we will be looking at those and making sure that they're at the grade level they should be and that it is meeting exactly the standard it said it was," Swarat said.
In mathematics, information builds on a foundation of previous knowledge, so matching each question to its correct standard and level is especially important. Participating in the panel also gives the teachers an idea of what questions to expect when students face the test next year.
"I applied because I want a deeper understanding of Smarter Balanced because I want to prepare my students," Cox said. "I figure the more I know, the better I can prepare my students for what will be on the test."
A bit of preparation could go a long way during the transition. Because Smarter Balanced has a greater emphasis on critical thinking, treating the new assessment just like OAKS could cost the students many points. For example, instead of the one-answer multiple choice questions students are familiar with on OAKS, the Smarter Balanced Assessment will include "choose all that apply" questions.
"They could get a question where three out of five answers might be correct," Swarat said. "If they only pick two and three were correct, they're going to be marked down and they won't get the points for that."
Another difference is a focus on precision and units. In a fill-in-the-blank question, a student could leave out the units and be marked incorrect, even if they had the right number.
"Being able to have these discussions in the classroom before you get onto the test when you can't talk about it is a big advantage. We want them prepared before they get into that situation," Cox said.
Students will also only have one opportunity to take the Smarter Balanced Assessment –during the last 12 weeks of their school year. Students can take the OAKS test up to three times a school year.
"The biggest challenge is just that the level is set higher than the average student has ever reached before," Swarat said.
In Umatilla, students have been learning common core standards for three years. The different standards hit the schools hard last year when students did not perform well on the OAKS test. In the 2014-15 school year, Oregon schools will test using the common-core-based Smarter Balanced Assessment.
In Hermiston, Armand Larive had a blended approach last year between OAKS and Common Core standards. This year, Cox is teaching Common Core.
"I'm very excited to see in another eight years, when the kids who have had Common Core from elementary school come up. I'm excited to see if they can do all these things we expect them to be able to," she said.
While tougher standards – combined with new teacher evaluations and new curriculum – have Oregon teachers working harder than ever before, the new test does have a silver lining, especially in a subject students brush off with an attitude of "when will I ever use this in the real world."
"I like that it's challenging our kids to be critical thinkers," Cox said. "It's not just memorize this formula and spit it back. It's teaching them to apply it in different situations."