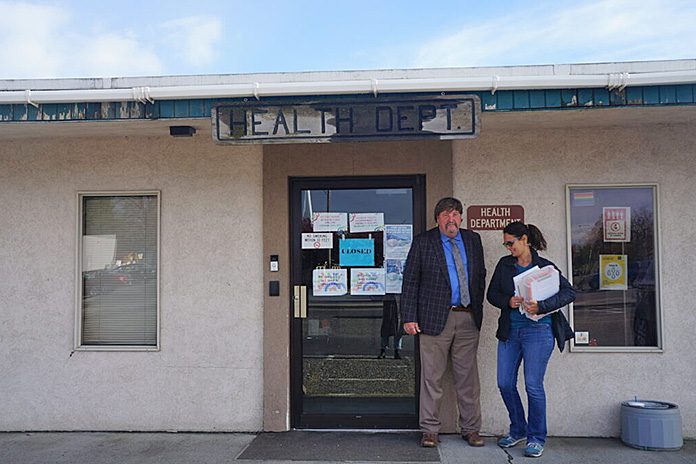 This is just a portion of a special report by the Oregon Capital Chronicle. For the full story, click on the link at the bottom.
By Alex Baumhardt
The first time Jim Doherty visited Boardman's West Glen neighborhood to test people's tap water, he had six plastic bottles from a lab in Umatilla and communicated with residents using broken Spanglish from his years working on farms and ranches.
Most of the homes in the mostly Latino neighborhood in northeast Oregon are prefabricated, on large lots, with long gravel driveways where cars and kids' toys are parked. The area is surrounded by farmland. The homeowners draw their water from wells tapping an aquifer increasingly contaminated with nitrates.
Doherty, chair of the Morrow County Commission, went door to door and asked if he could see people's wells, whether they used any water filters and knew what nitrates were.
His informal survey in April was a couple months after state officials declared that the Port of Morrow, Morrow County's economic engine, had been violating its wastewater permit for three years. In January, the Oregon Department of Environmental Quality fined the port a record $1.3 million for allowing more than 165 tons of excess nitrogen in the form of recycled wastewater to be piped onto area farm fields.
An investigation by the Oregon Capital Chronicle found the contamination had persisted far longer than three years, with little enforcement from DEQ.
News of the penalty got Doherty worked up. He'd been involved in voluntary efforts over the past three decades to get farmers, large animal feeding operations, local food processors and the port to voluntarily curb their use of fertilizers and the spread of manure and nutrient-rich wastewater that was further contaminating the groundwater with nitrates.
Water high in nitrates consumed over long periods can lead to stomach, bladder and intestinal cancers, according to the National Cancer Institute, as well as miscarriages and "blue baby syndrome," inhibiting oxygen from moving through an infant's bloodstream.
The fine against the port was further proof for Doherty that the issue didn't matter to the powerful interests in the region.
Doherty said that for years the relationship between the port and local government "was the tail wagging the dog."
"The county didn't question what they were doing," Doherty said.
For the complete story, see the Oregon Capital Chronicle.