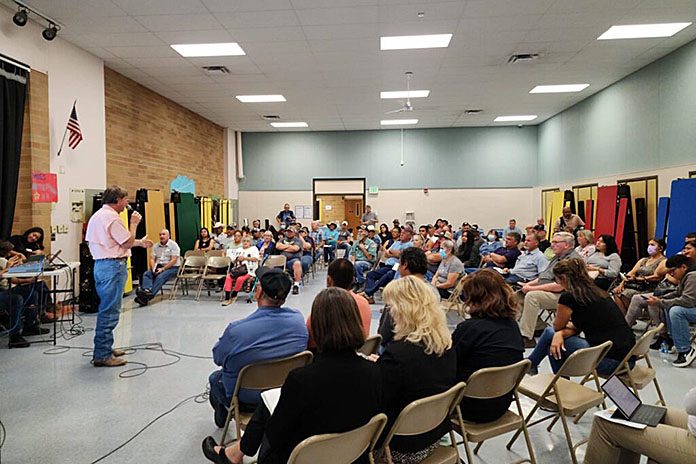 By Alex Baumhardt
More than 100 Boardman residents attended a meeting Thursday evening to demand the state guarantee access to safe drinking water in Morrow County.
The meeting, hosted by the nonprofit environmental and social justice advocacy group Oregon Rural Action, was the largest public meeting regarding drinking water issues since the county declared an emergency over groundwater nitrate contamination in June. It took place over two hours at Sam Boardman Elementary.
No one from Gov. Kate Brown's Office or from the state agencies tasked with ensuring clean water attended, despite invitations. Just one area legislator, State Rep. Greg Smith, R-Heppner, attended over video.
County leaders and people with contaminated wells expressed growing frustration at the lack of direct intervention from the state in public testimony.
For nearly six months, a Morrow County commissioner, a communicable disease specialist at the county's public health department and volunteers from Oregon Rural Action have been going door-to-door testing tap water from private well users and setting up testing sites in town. They've also been providing under-the-sink reverse osmosis filters to people with high nitrate levels.
Because of decades of excessive fertilizer applications on farms, manure from large livestock operations and wastewater from food processors being applied on fields, high levels of the compound nitrate have leaked into an aquifer that supplies water to people in Morrow and Umatilla Counties in east Oregon.
Nitrate contamination risks are high for people with wells, many of whom are Latino and are low-income. The risks of consuming high levels of nitrate over long periods include miscarriage, thyroid disorders and some forms of cancer.
Commissioner Jim Doherty, Ana Piñeyro of the health department and Oregon Rural Action volunteers have tested nearly 500 household taps so far, and 200 have come back with nitrate levels higher than the Environmental Protection Agency's safe drinking limit of 10 parts per million. An additional 48 have tested above the state's preferred safe drinking level limit of 7 parts per million.
An estimated 4,500 domestic wells draw from the contaminated aquifer in Morrow and Umatilla counties, supplying water to roughly 12,000 people, according to the Oregon Health Authority. It is not yet known how many might be contaminated.
For the complete story, see the Oregon Captial Chronicle.