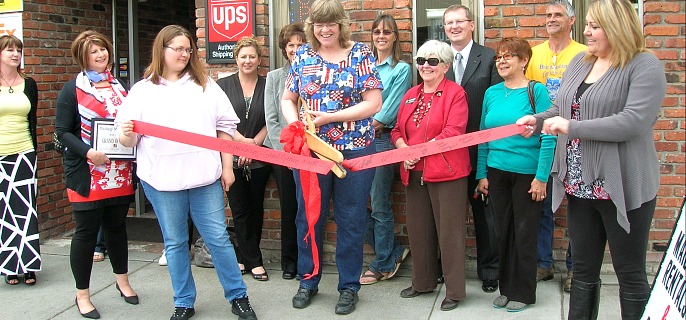 The crew at Mailing Made Easy celebrated their official grand opening at their new Main Street location in Hermiston Thursday.
Friends, associates and Hermiston Chamber of Commerce representatives joined owner Debra Dewitt for her ribbon-cutting ceremony. Dewitt expressed her gratitude to the chamber and to the downtown merchants who have welcomed her business to Hermiston's commercial hub.
Mailing Made Easy moved from South Highway 395 to Main Street during Presidents' Day weekend and opened February 18.
"It's great being downtown," Dewitt said. "We didn't realize how disconnected we felt (at the former location)."
The new location has also given Dewitt and company the space which their old facility lacked. "We outgrew it," she said, "and the building was sold, so it was a good time for us to move."
Mailing Made Easy offers a variety of services including packaging service, mail forwarding, copying, laminating, notary services, and typing. Rental mailboxes are available for $8 a month. There are retail items available as well, such as key rings, framed artwork and custom printing.
The business also functions as a bill payment station and a station for Charter Communications payments and equipment returns.
Dewitt explained that Mailing Made Easy also recycles clean packaging materials such as Styrofoam packing peanuts, bubble wrap and air bags. "The only thing we don't do is shredded paper and tissue," she said.
"Sometimes I call us a glorified secretarial service," Dewitt said. "We don't babysit – but we have done that a few times."
Visit Mailing Made Easy's new home at 242 East Main Street. Business hours are 9 a.m. to 6 p.m. Monday through Friday and 10 a.m. to 3 p.m. on Saturday. For more information on the services available, call 541-567-6351.
More Stories from Northeast Oregon Now:
Umatilla to Let Voters Select Next Mayor
Public Can Meet Sandstone Principal Finalists
Council Candidate Didn't Let Circumstances Keep Her Down