A Milton-Freewater man who appealed a 50-month sentence for a stabbing incident has now been sentenced to 70 months in prison after being granted a new trial.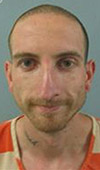 Krystian Thomas Allen, 29, had been convicted in January 2020 and sentenced to 50 months in prison with the chance for early release. The jury, however, voted 10-2 to convict. As a result, Allen successfully appealed the verdict based on the U.S. Supreme Court's decision that found non-unanimous verdicts unconstitutional.
After the second jury unanimously found Allen guilty of second-degree assault, Circuit Court Judge Daniel Hill said he was not bound by the previous sentencing court's findings and imposed a voter-mandated 70-month sentence without eligibility for early release or any reductions in his sentence.
The conviction stems from a May 16, 2019 incident in which Allen stabbed George Martin of Athena in the back.