A Hermiston man was arrested and charged with theft after allegedly attempting to sell stolen tools to the actual owner.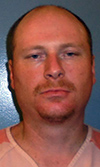 Dustin Sanders, 35, was arrested and charged with theft and computer crime. According to Lt. Randy Studebaker of the Hermiston Police Department, a Pendleton resident reported several tools were stolen from his vehicle back in December.
On Feb. 9, tools matching the description of the stolen items were seen on a regional classified ad site. Officers made a plan with the victim to meet the alleged seller – Sanders – and examine the property. The victim was able to identify the recovered property by unique markings.
Studebaker said Sanders was arrested over the weekend. He was lodged in the Umatilla County Jail on accusations of theft and computer crime. In addition, he had several unrelated warrants for his arrest accusing him of failing to appear in court, contempt of court, and possession of methamphetamine.
"Sanders is well known to the Hermiston Police Department as he has, locally, 21 prior arrests and 46 citations," said Studebaker, who said this is an ongoing investigation.
Anybody with information can contact Corporal Stokoe at 541-567-5519, or by email to lstokoe@hermiston.or.us. Tips can also be left anonymously on the HPD tip line at (541) 667-5148.
"This case is an excellent example of why it's important to record the serial numbers on your valuables, and to apply unique markings that we can use to identify and return your property," said Studebaker.