Hermiston police arrested a man on Tuesday on several charges, including burglary, after he returned to a home he had allegedly burglarized earlier in the day.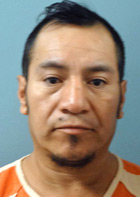 According to Hermiston Police Chief Jason Edmiston, a resident on the 600 block of Moore Avenue reported that the house had been broken into and items had been stolen. Hermiston police responded and took a report of several missing items, including jewelry, electronics and other items. The burglary was reported to have occurred between 4 and 7 p.m.
Then, around 9:45 p.m., the Hermiston police received a report indicating that the same resident had detained a person who attempted to enter the residence unlawfully. When police arrived at the scene, they found Rufugio H. Campos, 43, and took him into custody.
The HPD investigation revealed that Campos was allegedly responsible for the earlier burglary at the residence, had hid stolen property at the home and was attempting to retrieve it when he was caught.
Campos, 690 S.W. Ninth St., No. 25, was lodged in the Umatilla County Jail and charged with first-degree burglary, first-degree attempted burglary, first-degree theft and second-degree criminal mischief. He was later charged with two counts of unlawful entry to a motor vehicle and second-degree theft for his alleged involvement in car prowls near Our Lady of Angels Catholic Church on Oct. 26.
"This burglary is very alarming," said Edmiston. "The brazenness of Mr. Campos to not only commit the initial act, but follow it up with a second act to retrieve property is unique."