A Hermiston man had a harrowing experience Sunday morning when he tried to stop a man from stealing his pick-up truck.
According to the Hermiston Police Department, just before 7 a.m., the victim, who lives on the 1000 block of S.W. Larkin Court, started his pickup and hitched it to a flatbed trailer, which was carrying another vehicle. The victim stepped inside his house for a moment, and when he came out there was a masked suspect in the driver's seat of his truck.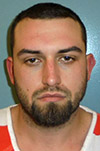 The pickup doors were locked so the victim stood on his running board while ordering the suspect to get out of the vehicle, said Lt. Randy Studebaker. Instead of getting out, the suspect allegedly sped away with the victim still on the running board. The victim was thrown free from the vehicle a short distance away. He was later treated and released from the hospital with apparently minor injuries.
Studebaker said the incident was captured on the victim's video surveillance system. Using that evidence, as well as other information provided by the victim, officers contacted 24-year-old Bryce Dickinson of Meacham, who was arrested and lodged at the Umatilla County Jail, accused of unauthorized use of a vehicle, second-degree assault, reckless driving, two counts of first-degree theft and one count of third-degree theft
Studebaker said the victim's vehicles were recovered.
Property in Dickinson's possession, at the time he was arrested, is believed to have been stolen during unrelated cases. Studebaker said the case is still an open and remains an active investigation.