This sounds like a joke – but it's not!
A man walks into the police station to turn himself in on a warrant. Turns out, there was no warrant out for his arrest. So, the man leaves the police station, commits a crime and is promptly arrested.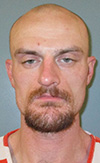 That's what happened on Wednesday when, according to Hermiston Police Lt. Randy Studebaker, Shane Springer, 30, arrived at the Hermiston Police Department around 8:45 p.m.
Studebaker said Springer wanted to turn himself in on an outstanding warrant. One catch – there was no warrant out for his arrest nor was he wanted for any crimes, so he left the station.
Here's what happened next:
About 90 minutes later, HPD received a call that someone had broken a window out of a business in the 1300 block of N. First St. Studebaker said witnesses gave a description of the alleged suspect and said the suspect was leaving the area.
Officers responded and found Springer, who matched the description of the suspect, and they placed him under arrest. He was charged with criminal mischief, disorderly conduct and trespassing since he had previously been banned from that particular business.
Studebaker said Springer has more than 30 previous arrests and dozens of citations.
Studebaker said information from witnesses proved valuable in locating Springer.
"In this circumstance, they provided timely information to dispatch that was immediately relayed to our officers," he said.
Studebaker said if anyone witnesses a crime or suspicious activity, they should call right away – either 911 or the non-emergency number, 541-567-5519, and press the option for dispatch.