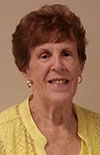 Marilyn Joy Smith of Hermiston passed away in Hermiston on July 25, 2020 at the age of 85.
She was born on July 7, 1935 in Goldendale, Wash. to Everet and Georgia Ross Shaver.
Marilyn's family moved to Hermiston when she was 3 1/2 years old. When Marilyn started first grade, she was so bashful that her mother pinned her name on her dress because she wouldn't talk. She attended grade school and high school in Hermiston. She was in the high school band and also enjoyed playing her saxophone in her church's orchestra.
After graduating from high school, Marilyn went to work at the Umatilla Army Depot in the finance and accounting department. She had a habit of chewing gum and popping it. Her supervisor did not appreciate that much but since she did a perfectionist job, she ignored the gum popping. She spent 15 years at the depot before she met prince charming.
Bud was on furlough from the Navy and was visiting his aunt and uncle in Hermiston when he met Marilyn. Obviously, it was love at first sight as they married shortly thereafter in Hermiston on Feb. 24, 1968. Right after marrying, they moved to Concord, Calif. When Bud's furlough was over, he was shipped out to sea on his Navy ship. When Bud's ship returned, he was deployed to Kodiak, Alaska for the balance of his 20-year Navy career. Marilyn was able to go to Kodiak with Bud. While they were in Kodiak, their first daughter was born. Upon Bud's discharge the family moved to Hermiston, where they have lived since. The family continued to grow, adding three sons and another daughter.
Marilyn was a perfectionist and took good care of her family and her home. She is now with Jesus and all the cleaning is over.
Marilyn leaves behind her husband of 52 years, Albert "Bud" Smith; children, Sheri (Terry) Haight, Larry (Heather) Smith, Jerry (Julie) Smith, Terry (Vienay) Smith and Kari (Richard) Faubion; 15 grandchildren; and a sister, Margaret (Tony) Hempe.
She was preceded in death by her parents and a brother, Ted and wife Hazel.
A private family service will be held with burial in Hermiston Cemetery.
To leave an online condolence for the family, please go to burnsmortuaryhermiston.com.
Burns Mortuary of Hermiston is in care of arrangements.