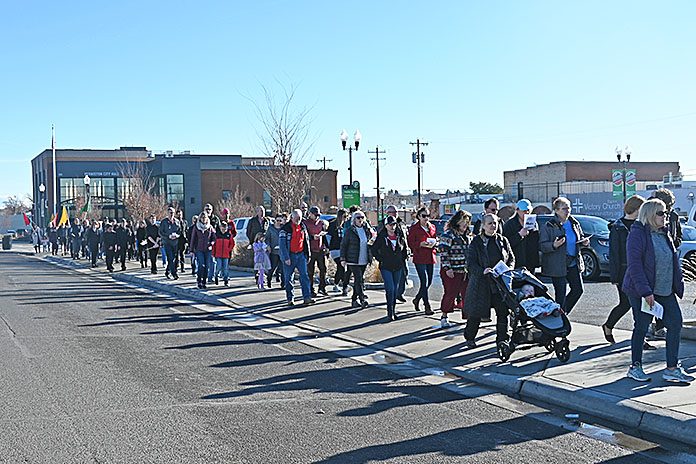 More than five decades after his death, Martin Luther King Jr. continues to inspire new generations of citizens to make a positive change in their community.
That inspiration was on display Monday during the annual MLK Peace March put on by the Hermiston Cultural Awareness Coalition (HCAC).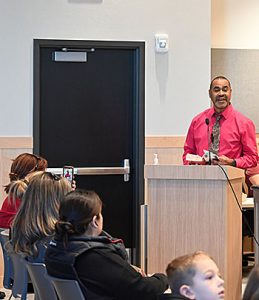 Following a march through downtown Hermiston, six or seven dozen people from around the region gathered at Hermiston City Hall for a series of talks by a range of speakers – all sharing how their lives have been changed by King's words and deeds.
Jagjot Singh, a Hermiston High School senior, said he didn't even know who MLK was when he first came to America from Italy.
"I just knew we got a day off from school," said Singh, one of two students to receive scholarships from the HCAC. But over the years, as he learned more about King, he began to fully appreciate the sacrifices he made in the name of positive change.
"It's just inspiring to all of us," he said. "I've learned to stand up for what's right and not just go along with what is happening around you."
Another scholarship recipient, Adrianna Coleman, said King's nonviolent movement "still bears the fruit of his labor. Let us love thy neighbor. Let's treat each other with kindness and respect, and be beacons of change."
Hermiston City Manager Byron Smith recalled the inner struggles King dealt with in the face of threats of violence to himself and his family. Yet, said Smith, King found the strength to keep up the fight.
"We each have challenges in our lives," said Smith. "We each can have an impact in our circle – our home – as we deal with opposition. We can all find the light inside us and keep pushing for what is right and work to make our world a little bit better."
Keynote Speaker Jesus Rome urged the audience to take up three challenges in 2023. First, share your story with others and, more importantly, listen to their stories and learn from them.
Second, take the time to learn about other races, cultures and traditions. "Be a lifelong learner," he said.
And finally, have a dream for your community.
"Whatever it is, have a dream," he said. "My dream is for my kids and my grandkids to live in a safe community without discrimination. So, we got to keep on keeping on and be the light and the love that we all need."