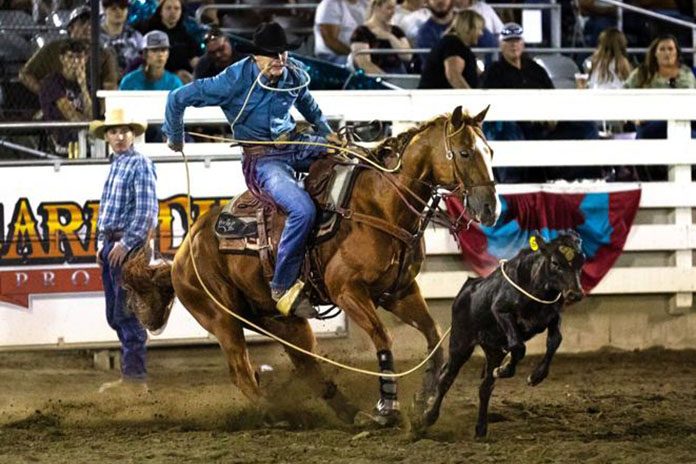 Hermiston steer wrestler Dalton Massey made a big splash Wednesday, Aug. 9, on the opening day of the 35th annual Farm-City Pro Rodeo.
Massey, and Jesse Brown of Baker City, each took down their steers in 3.3 seconds to share the top time of the performance. They were one-tenth of a second off the arena record of 3.2 seconds set by Trav Cadwell in 2000.
"I haven't had that much luck here," said Massey, who is ranked No. 1 in the world standings. "I was lucky to draw a good one. Tying Jesse was pretty cool."
Brown opened the competition with a 3.3 run, followed by Will Lummus with a 3.4. Massey followed with a 3.3, while Stephen Culling had a 3.7.
"I have been chasing him all year, and then he ties me," said Brown, who is third in the world standings. "At least he didn't beat me."
The steer wrestling featured seven of the top 15 men in the world standings, with Tyler Waguespack (4.4 seconds) at No. 2, Ty Erickson (4.4) at No. 4, and Lummus at No. 5.
"It was just good watching everyone after I went," Brown said.
Brown and Massey also split the $500 Darrel Sallee Gray Ribbon Challenge.
Breakaway roper Sarah Angelone of Lipan, Texas, tied the arena record with a run of 1.9 seconds. She now shares the honor with Danielle Lowman (2022).
"I didn't know that," Angelone said of the record.
Riding her horse Wilma, Angelone was the second roper of the event, then watched as the rest of the field tried to catch her. Cadee Williams of Weatherford, Texas, turned in a run of 2.2, and Shelby Boisjoli of Stephenville, Texas, had a 2.6, and leads the average with a 6.3 on two runs.
"This is my first time here," said Angelone, who is ranked third in the world standings. "I love the weather and this is a nice facility."
In the barrel racing, Taycie Matthews, who is seventh in the world standings, had the hot run of 17.11 seconds. She recently won the college national title for University of West Alabama.
"It has been an amazing year," she said. "I'm blessed to be here. This is a really great rodeo."
The bareback riding got the rodeo started, and Idaho cowboy Clay Stone topped the field with a score of 82 on Tootsie Roll.
"I hope I can earn some money here," Stone said. "I have been struggling this year. I hadn't been on that horse before. It's older than dirt, but one of the best bucking horses I have strapped this year."
The tie-down event also had a tie on the night as Britt Bedke and Colton Farquer had runs of 8.7 seconds.
"This is my first time here," Farquer said. "I made a horse change and did really well. It's a great time of the year and this is a good rodeo. The committee takes care of us and adds good money."
It also was the first trip to Hermiston for Bedke.
"I drew a good calf and dressed her up," Bedke said.
Chase Brooks, the No. 9 man in the saddle bronc world standings, set the tone for the week with a score of 86 points on Come Along.
"This time of year, you have a chance to make good money," Brooks said. "You need a good bucker, and that horse bucks. As good as the top 40 ride, you need good stuff to win. I hope my score holds up here and I can grab some money."
The team ropers had an off night, with six of the 11 teams posting no times, but Jr. Dees and Ross Ashford were able to top the field with a run of 4.8 seconds, besting the team of Cash Duty and Sid Sporer, who turned in a 5.2.
"Today was tricky," Dees said. "He (the steer) went left, but Ross was able to clean it up."
In the bull riding, the bulls ruled the night, going 5-0 against the cowboys.