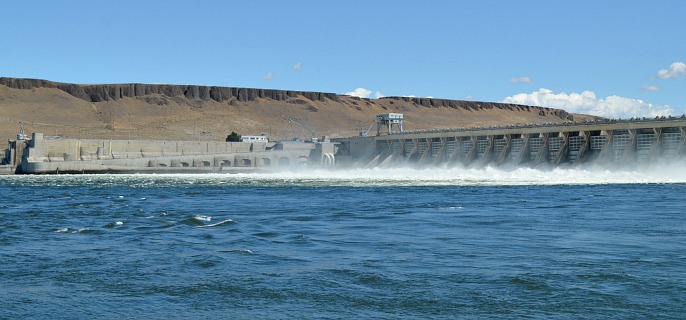 McNary Dam's navigation lock, located near Umatilla, will be temporarily closed to all river traffic on Sept. 8-10, from 6 a.m. to 6 p.m. each day, according to U.S. Army Corps of Engineers' operations officials.
The navigation lock will be closed to allow workers to perform an inspection of the downstream gate. This detailed inspection involves workers using climbing gear and requires the best-possible visibility of daytime lighting.
Commercial and recreation vessels will be allowed to lock through each day from 6 p.m. to 6 a.m., following an order of priority to accommodate safe lock operations, according to Corps officials at McNary.
"After the lock reopens each evening, the first five barges waiting will have priority to lock through," said Bill Gersbach, McNary's chief of operations. "If there are more than five barges waiting to lock through, then recreational craft will be locked through after the fifth barge "If a recreational craft can be safely locked through with a barge and its tow, the lock operator will determine if they can safely lock through at the same time. If only recreational craft are waiting when the lock reopens, we will lock them through."
Recreational boaters can access the river both downstream and upstream of McNary Lock and Dam from nearby boat launches. The nearest fee-free launch available on the south shoreline of the river is the Oregon Boat Launch located just upstream of the dam. The nearest free boat launches on the north side of the river are the Washington Boat Ramp, located just upstream of the dam, and at Plymouth Park, operated by the Corps' Portland District, located just downstream of the Interstate 82\U.S. Highway 395 bridge over the Columbia River. Explore more boating and recreation opportunities online at the Army Corps of Engineers website.