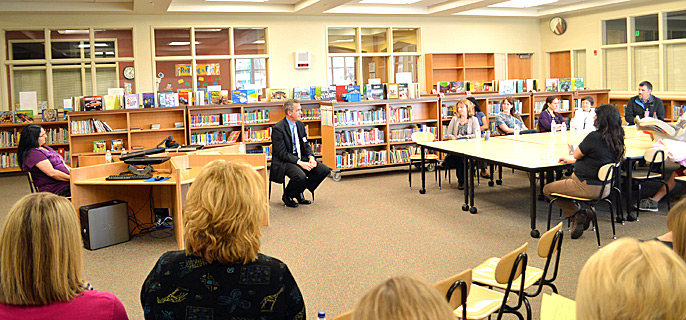 [quote style="2″]West Park Holds Meet and Greet on Thursday[/quote]
The four finalists for the West Park Elementary School principal position had a long day on Thursday.
First, they each went through a formal interview process. Then they spent time on a walk-through of the Hermiston building where they met staff and watched classroom instruction. Finally, they took part in a "Meet and Greet" at the end of the day, answering questions from staff and public who, afterward, were asked to fill out an evaluation form on each candidate.
The evaluations will be part of the final selection process. Whoever is selected as the next principal will succeed Shane Pratt, who resigned for personal reasons in October after serving seven years in the position.
During the "Meet and Greet" Thursday, each candidate, one at a time, spent a few minutes giving a brief background on themselves and their education career. They then took questions for about 20 minutes. After the question-and-answer session, the candidate left the library and the staff and public filled out the evaluation form. The following is a recap of each candidate's session.
Deborah Crueger
Crueger's educational career began in 1990. She currently serves as a principal on special assignment at Edwards and Mabel Rush Elementary Schools in Newberg. Prior to that, she served as principal at Dundee Elementary in Newberg for seven years. Her teaching experience primarily includes fourth and fifth grades and Title I experiences in the Salem and North Bend areas.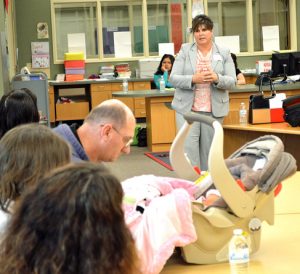 Crueger said she is interested in coming to the Hermiston School District because one of her passions is "working in a school where it has more of a diverse culture." She described her leadership style as being focused on student achievement.
"So, with staff it would be, 'What are we doing as a team to build student achievement and bring a harmonious environment to the school?' " she said.
Crueger was asked about coming to a building that is a designated as a Focus School. The state defines Focus Schools as those that are high poverty schools and ranked in the bottom 15 percent of Title I schools.
She said she has worked in schools in the past that faced difficult challenges.
"We focused on what changes we need to make to improve performance," she said.
Crueger said the biggest frustrations in the education field are the constant changes staff and students face.
"It's important to have continuity," she said. "But we have new standards, new evaluations and it makes it difficult to do what our job is and that's making our students successful."
Michael Roberts
Roberts, who grew up in Pendleton, entered the field of education in 1999. Since 2007, he has served as assistant principal at Housel Middle School in Prosser, Wash. Prior to that, he was a middle school and high school teacher, primarily in the language arts and social studies disciplines.
Roberts said schools work best when parents get involved.
"It's super important – not only to get them to come to the school but to get them involved in the school," he said. Like West Park, Roberts' school in Prosser has a large population of Hispanic students. His school holds bi-monthly events for migrant families, as well as offers weekly computer classes for Spanish-only families.
"If parents don't feel accepted at the school, it can spill over to the students," he said.
Roberts said personal relationships with students are important to him as an administrator. His school has 684 students enrolled.
"I can call 680 kids by their first name," he said.
Roberts said he is familiar with the challenges facing West Park because Housel Middle School is also designated as a Focus School in the state of Washington.
When asked about the use of technology as an instructional tool, Roberts said he's "all in favor, but it can't ever replace the relationship between teacher and student."
Kevin Headings
Headings has served as principal of Stanfield Elementary School since 2005. In 2010, he began serving in the dual role of principal and superintendent. Prior to coming to Stanfield, Headings spent seven years as a fourth- and fifth-grade teacher in Lebanon. He has been in the education field since 1993.
Headings, who said he has "a passion for all things elementary," cited the improvements in the Stanfield School District during his tenure there.
"Student achievement and behavior weren't where they should've been," he said. "But we've seen an upward trajectory the past eight years."
Headings was asked how he would address the concerns of parents worried about their children attending a Focus School.
"We need to have a belief in ourselves," he said. "We're on the cusp of something very good here."
Headings said if he encountered a parent who was concerned about the quality of West Park, he would ask them to be part of the solution.
"I'd invite those parents to the school and have them be a part of what we're doing here," Headings said.
One parent expressed concern for one of her children who is struggling with math – not because it doesn't understand it, but because he is bored.
"We're there for all kids and where they are," he said. "We have to explore what we can do as a team to meet the student at their level. I have a pretty good experience doing that in Stanfield."
Headings said he's "always had my eye on Hermiston," but would remain happy in Stanfield if he is not selected for the principal position at West Park.
Brad Bixler
Bixler, assistant principal at Pendleton High School since 2008, has been in education since 1988. Prior his role at the high school, Bixler spent seven years as a fifth-grade teacher in the Pendleton School District. His educational experience includes time spent as elementary school teacher, technology coordinator, and middle school/high school math and science teacher.
"I'm very interested in developing a culture of academic excellence," he said.
Bixler, too, was asked about West Park's designation as a Focus School.
"There's going to be a frank discussion on what we're going to have to do as a staff," he said. "You've got the potential here to really take off in terms of academic gains."
And while he welcomes new technology in the classroom, Bixler said a clear plan needs to be in place in terms of how to use it.
"What I'm concerned about with technology is how it's used," he said. "Technology is not the answer to improving instruction. It's easy to chase the latest and greatest, but we don't have the resources to do that. Whatever we do, we have to make sure it's moving us forward."
Bixler said he has a well-earned reputation as a disciplinarian, but still manages to have a good relationship with his students.
Jenny Miller, a Title 1 instructor at West Park, said the Meet and Greet was a good opportunity for the candidates and the staff to get to know one another.
"I like the fact that we have a chance for them to come and talk to us and we can ask them questions," she said. "I like the process."