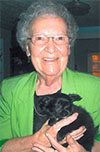 Mary B. "Mel" Sherrow of Hermiston, longtime Umatilla resident, died on Jan. 1, 2020 in Hermiston at the age of 92.
She was born on April 28, 1927 in La Grande to Leo and Mary Ellen Provolt Bryant.
Following her graduation from La Grande High School with honors in 1945, she was offered a scholarship in music to the University of Oregon. However, she declined and decided to move to Reith because of her father's employment on the UP Railroad. It was there that she met Theodore "Ted" Sherrow Sr. When Ted returned from the Air Force, they were married on Aug. 25, 1946. While in Reith, Mel worked for Garrett Freight Lines as a bookkeeper and eventually became the postmaster in Reith.
They welcomed a daughter, Linda, in 1948 and a son, Ted Jr., in 1953. That same year, 1953, they moved to Umatilla to be closer to Ted's employment by the Union Pacific Railroad at Hinkle. In 1956, while living in Umatilla, they had their second son, Cary.
She became a medical secretary, assistant and office manager for Dr. Marvin John in Umatilla. When he was bought out by St. Anthony's Clinic, she continued to work with him at the clinic. All in all, it was a total of 32 years. She retired in 1988 to care for her ailing husband. Ted died in 1993.
She was a warm, loving mother, grandmother and great grandmother. She especially loved spending time with her five grandchildren and seven great grandchildren. She also loved dogs. In her spare time, she enjoyed camping, fishing and hunting. As she grew older, both domestic and foreign travel became a passion.
Mel was a very active citizen in her community. In her early years she served every office in the PTA (including president), the board for teenagers' activities, Cub Scouts, Bluebird Girls and various school activities. At different times in her life she served as a member of the Fireman's Auxiliary for the Umatilla Volunteer Fire Department; the Umatilla Hospital District Board for 34 years, where she served several years as president; the chamber of commerce; an original member of the Umatilla Museum Board; served as treasurer for the Two Rivers Prison Advisory Committee, plus she was recognized for naming the new Two Rivers Prison; member of the American Cancer Society's Relay for Life, where she was grand marshal in 1998; the planning committee for the new Umatilla High School; and helped in the SMART program at the elementary school, where she helped children with reading.
She was a longtime member of Trinity Lutheran Church in Hermiston. She was a Sunday school teacher for many years; served as a deacon, communion assistant and member of the church board; and headed the original formation of the prayer chain.
Two of her favorite awards that she received through the years are Umatilla Outstanding Citizen for 2005-2006, and Outstanding Citizen of the Year Award for the Oregon Department of Corrections for 1998-1999. She received many other awards and accolades throughout her life.
She is survived by her daughter, Linda Krause and her husband Paul Markowski, Las Vegas, Nev.; sons, Ted Sherrow and his wife Christie, Hermiston, and Cary Sherrow and his wife Cynthia, Hermiston; five grandchildren; seven great grandchildren; and numerous nieces and nephews.
Mel was preceded in death by her husband and her parents.
Visitation will be held on Wednesday, Jan. 8, 2020 from 4 until 6 p.m. at Burns Mortuary Chapel, Hermiston.
A celebration of life service will be held on Thursday, Jan. 9, 2020 at 11 a.m. at Trinity Lutheran Church, 485 W. Locust Ave., Hermiston.
A private family burial will be at Olney Cemetery, Pendleton.
Those who wish may make contributions in Mel's memory to Vange John Memorial Hospice or a charity of choice.
Please share memories of Mel with her family at burnsmortuaryhermiston.com.
Burns Mortuary of Hermiston is in care of arrangements.