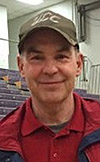 Michael John "Mike" Hug of Hermiston passed away in Kennewick, Wash. on August 13, 2022 at the age of 68.
He was born on Oct. 31, 1953 in La Grande to Russell and Laura Schaffer Hug.
Mike grew up on his family ranch near Summerville and attended schools in nearby Imbler. He graduated from Imbler High School in the class of 1971. After high school, he attended Eastern Oregon University for two years. He then took some time to travel and visited Australia, New Zealand, Fiji and Hawaii. Upon returning to Oregon, he owned and operated a wood stove business in Elgin for several years.
He moved to Hermiston in the mid-1980s and had lived in the Hermiston and Umatilla areas since that time. He worked as a manager for Coast to Coast (which later became Ace Hardware) in Hermiston for nearly 25 years.
Mike married Mary Woodard in Hermiston on Dec. 7, 1985, and from this union two children, Marci and Anthony, were born. The couple divorced after 17 years of marriage.
He enjoyed golfing, hunting, fishing, camping, riding dirt bikes and ATVs, taking trips to Wallowa Lake, and spending time with his grandkids. He was a member of Relay for Life in Hermiston and the Hermiston Rotary.
Survivors include his daughter, Marci Murray; son, Anthony (Chey-Anne) Hug; grandchildren, Morgyn Murray, Brooklyn, Cowan and Casen Hug; brother, David Hug; sister, Karen Hug; and several nieces and nephews and extended family members.
He was preceded in death by his parents.
A celebration of life will be held at 2 p.m. on Friday, Aug. 26, 2022 at the Burns Mortuary Chapel, 685 W. Hermiston Ave.
A private family interment will be in Summerville Cemetery.
To leave an online condolence for the family, please go to burnsmortuaryhermiston.com.