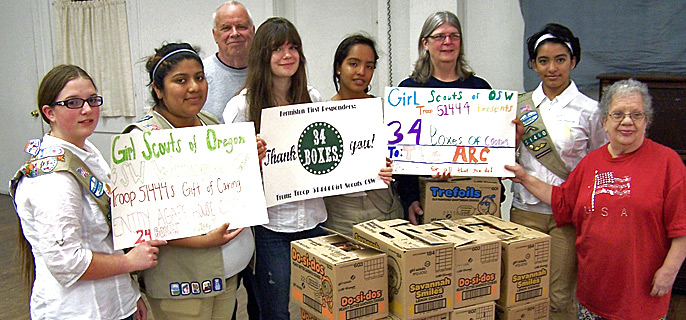 [quote style="2″]Girl Scout Troop Donates 92 Boxes of Cookies to Local Organizations[/quote]
The people who bought cookies from Girl Scouts of Oregon and Southwest Washington Troop 51444 did more than take home delicious treats for themselves. They shared some with their neighbors.
When approaching potential customers about purchasing Girl Scout cookies, the five Girl Scout Seniors and Ambassadors asked if they would consider buying an extra box or two for their "Gift of Caring," or the troop's chosen cause. This year, however, the Hermiston High School freshmen and juniors were torn between the community organizations that would receive their donated cookies. They finally settled on two Gift of Caring recipients: The Arc of Umatilla County and Hermiston's first responders.
Sofia Gispert Tello, a Girl Scout senior and HHS freshman, said the troop chose the Arc of Umatilla County as one of its recipients because people with intellectual and developmental disabilities should be able to be given the opportunity to enjoy the timeless treats just as much as anyone else.
"Our community focuses on organizations that work to feed those who can't afford it, like the Agape House, which is not bad," she explained. "But I feel as if not enough attention is given to people with special needs. It seems to me that they are often excluded from many activities our community partakes in, whether in school or in general.
"In that sense, I see Girl Scout cookies as a symbol, a thread that unites the whole community and all its individuals."
Veronica Gomez, a Girl Scout Ambassador and HHS junior, added that the Hermiston police and fire departments were also chosen as "a way of showing appreciation for all the hard work they do for the community."
Then, along came a customer who wanted her donations to go directly to the Agape House. This brought the total number of Gift of Caring recipients up to three.
"The Agape House is also a good cause," said Megan Kane, a Girl Scout senior. "It has been our Gift of Caring recipient in the past and we honor our customers' requests."
By the end of the sale, which ran from January to mid-March, the troop rounded up enough donations to provide 92 boxes total to the three groups.
Troop 51444 presented the bounty of Thin Mints, Samoas and six other cookie varieties to the happy recipients on Saturday, April 13, at the Arc of Umatilla County. The Arc of Umatilla County and Hermiston's first responders each received 34 boxes of cookies, and 24 boxes went to the Agape House.
The Arc of Umatilla County plans to serve the cookies at a couple of its upcoming functions that it organizes for children and adults with intellectual and developmental disabilities. The Agape House will share some of the two dozen boxes of Do-Si-Dos it received with Martha's House, a homeless family shelter that opened in March.