Mona Pauline (Lewis) Moyer died on May 31, 2013 in Hermiston at the age of 97.
She was born on Jan. 3, 1916 in Jackson, Mich., to V.V. Lewis and Lela (Dosson) Lewis.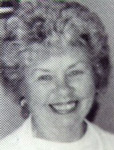 The family first came to Oregon in 1918, returning to Michigan in 1919. They permanently moved to Oregon in 1923, and lived on a ranch on Buttercreek.
Pauline attended grade school at Westland School and graduated from Hermiston High School in 1934. She married Elmer Moyer in Walla Walla, Wash., on July 2, 1939. Pauline worked at the Umatilla Army Depot in Hermiston and for the IRS in Portland, retiring in 1975. She enjoyed gardening, traveling, playing cards with her friends, and oil painting (winning several awards and ribbons at the Umatilla County Fair). Pauline was a member of the Hermiston United Methodist Church, a life member of the Order of the Eastern Star, and a member of the PEO Chapter DR.
She is survived by her daughters, Eloise (Bunny) Hunt, Colfax, Wash., and Diane Andersen and her husband Raymond, Spokane, Wash.; four grandchildren, Wes Johns, Rondell DeRooy, Tayna Johnson and Andra Warner; six great-grandchildren; and four great-great-grandchildren.
Pauline was preceded in death by her husband; her parents; a brother, Harry Lewis; and two great-grandchildren, Chantel Sullivan and Dalton DeRooy.
A memorial service was held on Wednesday, June 5, 2013 at the United Methodist Church in Hermiston.
A private family burial will be held at the Hermiston Cemetery.
In lieu of flowers contributions may be made to UMCOR in care of the church or the American Cancer Society.
Please sign the condolence book at burnsmortuaryhermiston.com
Burns Mortuary of Hermiston is in care of arrangements.