The Morrow County School District will have two new principals at elementary schools in Boardman and Irrigon for the 2020-21 school year.
Jill Ledbetter has been selected as the next principal of Sam Boardman Elementary (SBE) in Boardman and Stephanie Ewing was chosen as the next principal of A.C. Houghton Elementary in Irrigon.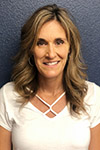 Ledbetter has been the head teacher at Sam Boardman for the past four years. She has 23 years of teaching experience in several different grade levels, as well as work as an interventionist and instructional coach.
Erin Stocker, executive director of human resources, said the selection committee was impressed with Ledbetter's understanding of the needs of SBE and her willingness to continue the great work happening there.
"Her work with the building and district safety committee and data team meeting structures, as well as adeptly responding to needs of a very diverse student population have prepared Ledbetter for this position," Stocker said. "We are excited to have Jill join our administrative team, as she brings a wealth of knowledge about Morrow County School District to the table."

Ewing has 20 years of experience in education, including nine years of administrative experience in Dayton, which included working as a special services director and elementary principal. Ewing grew up in Touchet, Wash., and is eager to move back to the area with her family to be closer to her parents.
Stocker said the selection committee was impressed not only with Ewing's experience, but also with how personable and engaging she is.
"We are excited for Stephanie to join our team. Her knowledge of school improvement, data-driven decision making and working with students with emotional and behavioral challenges are just a few of the reasons she was selected," Stocker said.