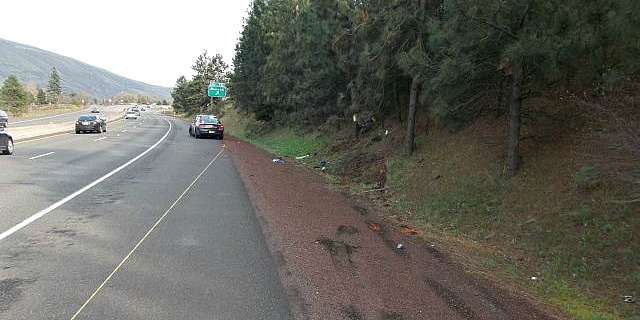 Oregon State Police (OSP) cited a Yakima, Wash., man following Sunday afternoon's motorcycle crash along the eastbound lanes of Interstate 84 near Rowena that occurred when the motorcyclist was attempting to elude an OSP trooper.
On March 30, 2014 at approximately 3:50 p.m., an OSP trooper attempted to stop a recklessly operated motorcycle eastbound on Interstate 84 near milepost 68 west of Mosier after initially confirming it was traveling 110 mph in a 65 speed zone and approaching the trooper from behind. The motorcyclist attempted to elude eastbound at a high rate of speed and the trooper lost sight of the motorcycle east of Mosier as troopers also began to set up in The Dalles area to assist if needed.
About ten minutes later, Klickitat County, Washington 9-1-1 received a call from an unidentified man saying he was hurt in a motorcycle crash while attempting to elude police in Oregon. The man wasn't able to provide an exact location before his cellphone call was dropped and ended.
OSP and Wasco County Sheriff's Office started checking the area between The Dalles and Mosier. An OSP sergeant traveling westbound spotted the motorcycle crash scene and injured man across the freeway about 4:03 p.m. near milepost 76 west of the Rowena interchange. The sergeant stopped, ran across the freeway and requested medical assistance as he started initial emergency care. The motorcycle had left the freeway coming out of a sharp left curve and collided head-on with a tree.
The motorcyclist, Kenneth S. Maravelias, 27, was transported by LifeFlight to Legacy Emanuel Medical Center in Portland with serious, non-life threatening injuries. He was wearing a protective helmet. On Monday, March 31, OSP cited Maravelias to appear in Wasco County Circuit Court for felony attempt to elude on a vehicle, reckless driving, no valid operator license and other traffic violations.
OSP was assisted at the scene by Wasco County Sheriff's Office, Mid-Columbia Fire & Rescue and ODOT. One eastbound lane was closed during the scene investigation.
More Stories from Northeast Oregon Now:
5 Injured, 1,000 Evacuated After Natural Gas Plant Explosion
UHS Robotics Team Ready for Regionals
Schimmel Leads Louisville to Regional Finals